Buying a life insurance policy is one of the critical financial decisions you must take. The future is uncertain, and a lot of people die prematurely every year due to accidents or critical illnesses. Have you ever thought about how your family members would survive if you were to deal with such an unfortunate event?
As a sole earning member of the family, it is your responsibility to keep your loved ones' future financially secure. A life insurance policy helps your family members maintain their standard of living and fulfill all their financial needs even if you are no longer around to provide for them.
Let us go ahead and learn about what a life insurance policy is and how it helps you look after your family in case of your demise. And not just that! Here, we will also help you go through the best life insurance plans in the UAE, followed by their benefits and feature.
What is Life Insurance?
Life insurance is an agreement between a policyholder and an insurance provider, wherein the insurer (insurance company) assures to pay a certain amount of a death benefit to the beneficiary upon the untimely death of the policyholder during the tenure of a life insurance policy.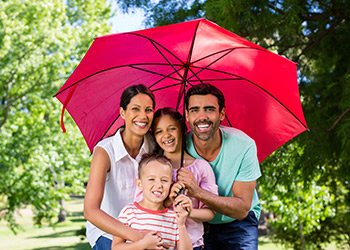 In return, the insured agrees to pay some specific amount of money as a premium on a regular basis, a limited premium, or a single premium. With suitable life insurance coverage in place, one can ensure the financial stability and security of their family's future.
Life Insurance Policy in UAE
There are a few life insurance companies in UAE that offer a broad range of life insurance plans such as endowment policy, term plans, whole life insurance, ULIPs, etc. The premium rates for life insurance UAE vary from policy to policy and it is based on the applicant's age, medical history, sum assured, income, and several other factors. However, applicants can easily get the best life insurance coverage at the right price if they indulge in proper market research and analysis by comparing best life insurance quotes. For a decent coverage of AED 1 million, the payable premium ranges from AED 1200-1400.
As per a survey, it has been found that nearly 51% of the UAE residents do not have Life Insurance policy, 36% people said that it is too expensive while the rest of the people are not familiar with this term. However, an apt life insurance policy aids in filling certain aspects of this void, ensuring the financial security of the insured's family Life cover in the UAE has yet to become popular among the people.
Best Life Insurance Plans in UAE
How Does Life Insurance Policy Work in UAE?
Life insurance Abu Dhabi and across the UAE works in the following steps:
Step 1: A policyholder pays the premium to the insurance provider.
Step 2: An insurance company guarantees to pay a sum assured to the beneficiary in case of the untimely demise of the policyholder during the policy period. Thus, it ensures the financial stability of the policyholder's family members.
Step 3: On survival of the life insured until maturity, a maturity benefit will be payable to the policyholder itself. However, it depends on the type of policy and whether or not it offers maturity benefits.