Incorporated in 1998, Union Insurance Company has its corporate office in Dubai and it is listed on the Abu Dhabi Securities Exchange.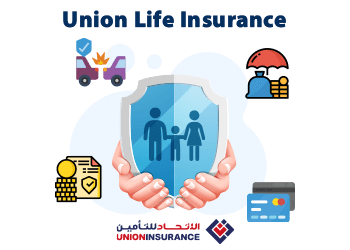 Union Insurance is one of the leading insurance companies in the UAE that offers a wide range of life insurance products with varied benefits in an effort to provide much-needed financial security to its customers. Backed by some of the most knowledgeable and experienced individuals in the industry, the insurer offers superior value and the most innovative insurance coverage.
Types of Union Life Insurance Plans in UAE
Union Insurance Company offers different life insurance plans. All of these plans are tailored to meet the needs of every individual who is looking to secure their life through life insurance policies that offer maximum coverage and return. Following are the life insurance plans offered by Union Insurance:
Group Life Insurance
Union Insurance Company (UIC) Group Life Insurance plan offers much-needed financial security to the company's employees as well as their family members against several odds such as untimely demise & disability.
Flexi Life
UIC Flexi Life Solution supports its policyholder's financial inspirations while adapting to their changing lifestyles & circumstances. The comprehensive features and benefits offered in this plan cater to financial security for the insured as well as their family members.
Sure Term
The Sure Term International Life Insurance Program offered by the UIC offers financial protection to the insured's family members in case of unfortunate events.
Key Features & Benefits of Union Life Insurance
Following are the key benefits of Union life insurance plans:
Financial Protection for Dependents: Union Insurance Company offers an apt life insurance plan that ensures that the dependents of an insured are financially taken care of even after his/her demise.
Comprehensive Coverage: The Company offers comprehensive coverage to the insured to meet their basic insurance requirements.
Scope of Coverage: The policyholder can avail of worldwide coverage.
Peace of Mind: Union life insurance plans give an insured complete peace of mind, knowing that the welfare of their family members is taken care of in an unfortunate event.
Coverage for Health Expenses: Union life insurance plans also cover an accidental medical expenses, hospital cash benefit, and critical illness.
Easy & Convenient Method: The company accepts premium payments in the following formats:
Direct Debit
Credit Card
Bank Transfer
Post Dated Cheques
Union Life Insurance Policies
Given below are the different life insurance policies offered by the Union Insurance Company:
Union Life Insurance Plans

Key Coverage & Benefits

Group Life Insurance

Accidental death benefit
Accidental medical expense
Hospital cash benefit
Coverage for disability
Repartition expense
Coverage against illness

Flexi Life

Global coverage
Hospital cash benefit
Involuntary loss of employment

Sure Term

Portable & worldwide Coverage
Death coverage
Life Insurance Coverage is initiated immediately.
Flexible tenure period starting from one year to ten years.
Easy & Convenient Payment Method.
Acts as primary as well as secondary life insurance plans.

Documents Required to Claim Union Life Insurance
Customers who wish to buy a life insurance policy from Union Insurance will have to provide the following documents:
Emirates ID
Passport with UAE Resident Visa
Proposal Form
Note: However, policy buyers may also need to submit the additional documents as requested by Union Insurance Company.
Union Life insurance Review
The in-depth knowledge of the market and multiple life insurance products coupled with a wide range of benefits is what makes the Union Insurance Company one of the leading life insurance providers in the UAE. UIC is a perfect combination of financial strength, trust, and expertise. Led by some of the most experienced individuals in the insurance industry, the company offers reliable and cost effective life insurance plans.
Claim Process of Union Life Insurance
Union Insurance Company offers an easy and convenient claim settlement process, thereby ensuring that the policyholder and beneficiaries get the claim amount at the right time. Moreover, the claim process is explained below:
Contact Customer Care
The first step for making the claim process is contacting the customer care representative of the UIC who will further assist you in the process.
Document Submission
The next step is to submit all the required documents to the company.
Reviewing & Processing
In the final step of the claim settlement process, UIC will review the claim application as well as the submitted documents. And the company will begin the process of claim settlement after the completion of verification.
Contact Details of Union Life Insurance
Head Office: Single Business Tower, Sheikh Zayed Road P.O Box 119227 Dubai, United Arab Emirates.
Tel: +971 (04) 3787 777 (764)
Toll-free Number: 800 UIC4U (84248).
Email: info[@]unioninsurance[.]ae
Union Life Insurance - FAQs
Q1. How do I renew my Union Life Insurance Policy?
You can renew your Union Life Insurance Policy by paying the renewal premium amount, upon which the insurance policy will become active.
Q2. How can I check my claim status?
Claim status can be checked online at the official website of the Union Insurance Company.
Q3. What are the premium payment & currency options for Flexi Life?
You can pay your insurance premium either in dirhams or the US dollar.
Q4. How do I submit a death claim?
If you die, your dependant or nominee will need to fill up the claim form & submit it to the company with all the necessary documents.