Your crème de la crème opportunity to grab the best deals!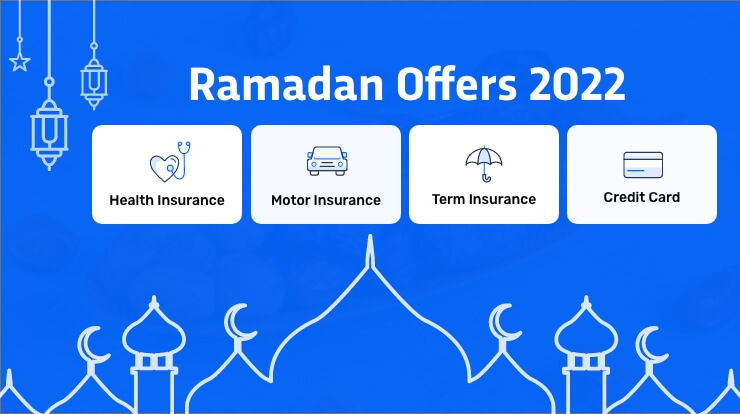 Ramadan, more than just observing fast, includes contribution to other people and society in general as a key tenet. An excellent place where you can start is to contribute to a secure future for your family by getting plans across health insurance, term insurance, and motor insurance. Get these plans at discounted prices in Ramadan with offers from GuideMeDoc, Amazon, HAYAH Insurance, and others.
Ramadan Health Insurance Offers
Ramadan 2022 has brought you the chance to secure your health (along with your family's well-being) in the form of an amazing offer by GuideMeDoc, which will allow you to receive excellent medical guidance and consultation for free.
More facilities in store, available for free, are
Free health check-up
Liver Function Test
Lipid Profile test
Thyroid profile test and many more
All you need to do is get a comprehensive Health Insurance policy to avail of all these (and many more) benefits. Click here to know more.
Ramadan 2022 Motors Insurance Offers
If you want to 'vroom' with your car on the exquisite roads of the UAE, you can get a motor insurance in Ramadan at up to 50% OFF to drive without worrying about your vehicle. Save on vehicle-related expenses and make no compromise on your spending for Ramadan.
And that's not all, as an Amazon voucher worth AED 100 awaits you if you get a comprehensive insurance with select insurers.
If you want to know more,
Ramadan Term Insurance Offers
Investing in the future of your family has never been easier, with Ramadan offer of up to 60% discount on term life insurance from HAYAH Insurance.
Ramadan is the best time to think about your family and take a decision that makes for a profitable investment for your family's future.
Ramadan 2022 Credit Card Offers
Ramadan is among the best times for spending that you'd wanted to make for a long time, both for yourself and your family. With amazing Credit Card offers from Citibank, Standard Chartered, and HSBC, you can use these cards to earn discounts, cashbacks, reward points and more.
However, if you want more benefits on these credit cards, you can explore our credit section to check out exclusive credit card offers brought on this site such as Amazon gift cards worth up to AED 400 and more.
Click here to start exploring!
Policybazaar UAE is here to help you get the best deals on your shopping and insurance.
Wishing Ramadan Mubarak to everyone from Policybazaar UAE!