Off-Road Insurance Cover – What Your Car Needs When Scouting the Seldom Explored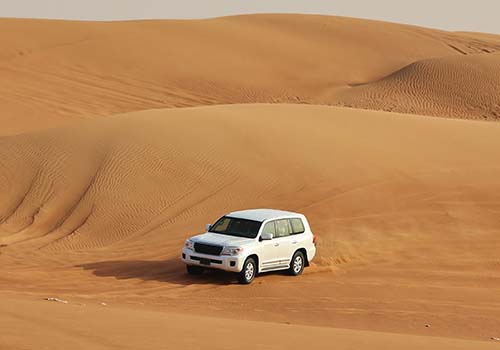 Paved roads and well-constructed highways are always a pleasure to drive on. But there is a unique kind of thrill in taking your 4x4 to the wilderness and travelling some of the least explored roads. Driving on these natural, unpaved roads is known as off-road driving since the paths you drive on are not technically roads. As fun and adrenaline-inducing off-road driving is, it can be quite risky for your car. Most vehicles are made to be driven on well-constructed roads. Even with off-road specific modifications, cars are more susceptible to getting damaged when driven off-road. This is where off-road insurance coverage comes into the picture. Let's understand off-road driving, how off-road insurance coverage helps with your adventures and what is covered.
What Is Considered Off-Road Driving?
Driving on any kind of pathway which is essentially not a concrete road is considered off-road driving. This includes any kind of naturally made surfaces such as sand, mud, rocks, dunes, gravel, river beds, etc. Off-road driving is done both professionally and for fun. Many professional events are organised with prizes for winners. The most common kind of off-road driving found in the UAE is dune bashing since most of the region is covered by the desert.
What is an Off-Road Insurance Coverage?
Off-road insurance coverage is an add-on cover that can be combined with the basic comprehensive car insurance cover available in the UAE. Since basic comprehensive car insurance cover does not include damages caused due to adventure driving or sports like off-roading, a special cover is designed to fill this gap. Some types of damages when you are off-roading are covered by basic insurance; for example, if you get into an accident when off-roading. Other kinds of damages are generally not covered though. This is why an off-road insurance coverage is added to comprehensive car insurance plans.
Is Off-Road Driving Covered by Car Insurance?
As we have established, most car insurance plans do not cover off-road driving as a basic benefit. However, many car insurance providers offer this benefit as one of the basic ones in their more exclusive comprehensive car insurance plans. The availability of off-road insurance coverage as a basic benefit is completely dependent on the provider and the level of comprehensiveness you choose for your car insurance plan. For providers who offer this cover as a basic benefit, it is only available for 4x4 vehicles and not 2x2 cars.
What is Covered in Off-Road Car Insurance Cover?
Off-road insurance coverage extends the application range of your basic and add-on car insurance benefits to the times when you go off-road driving for leisure. Let's understand this with an example. If your comprehensive car insurance plan offers windscreen protection, you can still avail of this benefit if the windscreen gets damaged by rocks when you are off-roading. If you do not have off-road cover in your plan, this damage to your windscreen will not be covered. In short, anything your car insurance plan covers for normal driving is also covered when you go off-road with an off-road driving cover. Other than vehicular damages, injuries caused in off-road driving accidents are also covered by off-road insurance coverage. Car accessories important for off-road driving are also generally covered for damages here. For example, LED headlights, roof racks, special tyres, etc.
Off-Road Insurance Coverage Exclusions
Leisure off-road driving is the only kind of off-roading covered here. Driving off-road when taking part in a competition or professional event is not covered.
Mechanical failures of the car are also not covered. This can include malfunction of the clutch, breaks, etc.
Any modifications done without prior approval.
Normal wear and tear of the car
Damages due to driver negligence
Damages incurred when using the car for an illegal activity
Cars that are not classified as 'off-road capable'
Do You Need Off-Road Cover?
Well, if you like sand duning in the UAE in your 4x4, yes, you need an off-road cover for your car. The off-road cover is a must for someone who frequently drives on gravel roads or in the desert. Just make sure that your car is suitable and clear to be driven off-road by the manufacturer. Also, check the additional limits applicable to the benefits of your insurance plan. It is best not to stray off the paved paths before you have a proper off-road insurance plan covering your car.
Why Do You Need Off-Road Insurance Coverage?
Potential Vehicular Damage: Driving off-road increases the chances of your car getting damaged substantially. It's not only the accidental damages that your car is susceptible to when it comes to off-road driving. There is always a possibility of physical injuries, possible damage from a natural calamity and more. Off-road insurance coverage will provide well-rounded protection from them.
Breakdown Protection: You will need your car insurance plan to cover engine breakdown more than ever when you are off-roading because the probability of breakdown is greater here. The off-road cover will extend the limits of your overall car insurance cover to make that happen.
Physical Injury Protection: In addition to protecting your vehicle when you are out in the wilderness, physical injuries to the driver and passengers are also covered by your off-road insurance coverage. It is best to be safe than sorry when it comes to your body and health.
Emergency Roadside Assistance: Emergency roadside assistance is very important when you are preparing to go and drive on pathways far away from the main roadmap of the UAE. Even if you do not have roadside assistance service from your insurance company when driving normally, it is easy to find help. Getting the help that you need in remote areas without roadside assistance can be very hard. Off-road insurance coverage makes it possible to get emergency assistance even when you are away from the road.
Things to Consider When Buying Off-Road Insurance Coverage
Know the Limits: One of the most important things about off-road insurance coverage is the limits applied to the policy. Different policies and providers offer different sets of benefits for different kinds of cars. It is not only the plan and providers that change the shape of your benefits but also the type of vehicle. Make sure that you read the policy wordings of your plan beforehand and know what benefits you can avail of before you set out on your off-road driving spree in the UAE.
Buy Policy as Per Your Car: Insurance providers often offer slightly different off-road insurance coverage for different cars. High-performance 4x4 vehicles may have different options for off-road policies as compared to the generic 4x4 cars. Make sure you research these options and ensure you buy the off-road insurance coverage that suits your car the best.
Examine Roadside Assistance: What often happens is that insurance providers set a limit on the availability of roadside assistance. You may only be able to avail of this service up to a limited distance from the road. Find out if there is a limitation like this on the roadside assistance service of your car insurance plan.
Compare the Options: Needless to say, the most important thing when buying your car insurance plan and the off-road driving cover is to compare your options. Obtain a few quotes and see which car insurance plan with off-road insurance coverage suits your needs the best. Make sure that you choose the most cost-effective options.
Animal Collisions: Not all off-road insurance policies offer protection in case your car collides with an animal when you are off-roading. While the chances of animal collisions are quite low when you are dune bashing in the UAE, you may still want to have this benefit covered, just to be safe.
Tips to Make Your Off-Road Driving Trip a Wonder
Examine the Condition of Your Car: Make sure that your 4x4 is in tip-top condition before you set out on your off-road driving adventure in the UAE. Get the necessary repairs done and recheck the maintenance-related things.
Stock on Important Things: Be it fuel or snacks, make sure you have stocked everything you may need when away from the road. If your off-road trip runs longer, you may not get a chance to find these things in times of need.
Keep the Luggage Secure: If carrying luggage, tie it up properly since dune bashing and other kinds of off-road driving can turn out to be a rocky ride. Make sure nothing is in danger of falling off of the rack if your car suddenly has to go through extra rough terrain.
Take Breaks: Make sure you take some time off from driving and rest up whenever you get the chance. Replenish yourself with plenty of water, given the hot weather of the Gulf. Taking enough rest will ensure safe driving and lower the chances of collisions.
Off-Road Insurance Coverage FAQs
Can I get my 4x4 car modified for off-road driving? How can my insurance plan be affected?
Yes, modifications can be done to your 4x4 car for off-road driving, but you have to inform your insurance company beforehand and get approval. Many insurance companies do not insure a vehicle with modifications that were not pre-approved. Unapproved modifications can lead to claim denials, while approved modifications may change the price of your insurance plan a little as per the standards.
Can I get off-road insurance coverage for 2x2 cars?
No, the off-road insurance coverage is specifically offered to 4x4 cars that are approved for off-road driving by the manufacturers. Apart from that, 4x4 vehicles modified for off-road driving with the insurance company's approval can get off-road driving coverage. 2x2 cars are not suited for off-road driving and hence do not get off-road insurance coverage.
What is the eligibility criteria to get off-road insurance coverage?
Apart from the basic eligibility conditions that one needs to meet to get car insurance plans in the UAE, you must also have an off-road driving compatible car. Most 4x4 cars are off-road driving compatible and come with a manufacturer's seal of approval for the same. The ones that don't can be modified after notifying the insurance company.
What kind of off-road driving is covered by off-road insurance coverage?
Only recreational and leisure off-road driving is covered by off-road insurance coverage. Off-road driving done as a professional sport and in events is not covered.