Weekend Getaways from Dubai to Spice Up Your New Year Celebrations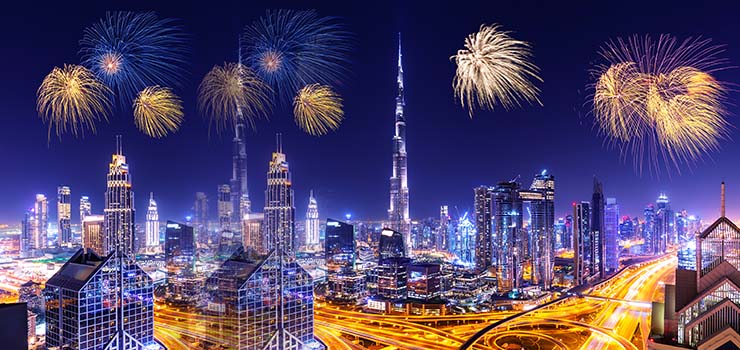 With the arrival of the 2-and-a-half-day long weekend in Dubai, Christmas and the New Year celebrations could not have aligned in a better way. Naturally, many weekend getaway plans must be in the making right now. While Dubai is filled with exceptional sights coupled with the enriching experience of mouth-watering cuisines, it is not uncommon to crave for something extra. To help you indulge in your unique cravings, we will target the best 5 places to head to near Dubai if you are planning a weekend trip for year end. Let's cover the nearest marvels first.
Top 5 Places for Road Tripping in and Around the UAE
If you are living in Dubai, its widespread web of beautiful highways is a tempting enough reason to pack your bags and head out. Top it up with the adventures that the nearby emirates can add to this sweet deal. Here's a list for you to skim through the top destinations.
The City of Dibba
If you are in dire need of some beach fun, Dibba is the place for you. Dibba is located on the easternmost coast of the UAE, just 1.5 hours' drive away from Dubai. It's a drive through colourful mountain roads that allow you to indulge in a variety of activities on arrival. The best part about visiting this place is that there's something for everyone. Here, you can spend a lazy evening walking on the beach, visit visit Al-Bidyah Mosque, Wadis of Hajar mountains, Madhab hot springs park, and Fujairah museum. Most people go to Dibba to spend some quiet time at the beach or awaken their senses scuba diving the beautiful shores. The beach of Al Aqah is the place to go for this. Private tour packages are offered here along with scuba diving activities. You can explore the infamous car cemetery while underwater. You can add a stop to the Hajar mountains and soak up some scenery before heading home. For a more solitary experience, head to one of the mosques, numerous forts of Fujairah or the history museum that'll take you back in time.
Al-Ain
Al-Ain creates a beautiful contrast to the fast-paced city life of Dubai with its laid-back lifestyle, green landscapes, calming oases and glorious wildlife. Al-Ain is also home to the highest peak of the UAE – Jebel Hafeet, one of the oldest inhabited civilisations of the world. It is also a UNESCO World Heritage site. Al-Ain Rotana is perfect for serene oases views that are truly a respite the dessert. If you wish to spend some time in the company of wildlife, then Al Ain zoo is the place for you to be. Add the excitement of white river rafting to your itinerary and your weekend is all set.
Kalba
Craving for some greenery? Kalba is the ultimate solution to satiate your green cravings. It is a tiny, beautiful fishing town in Sharjah and a home to two of the rarest bird species in the world. This little town promises you lush mangroves and impressive biodiversity that's unlikely in the middle of a desert. The place is like a time machine if you want to revisit good old days, away from the bustle of a faced-paced city. Activities like kayaking in the mangrove forest of Khor Kalba, falconry at the Birds of Prey Center, and a visit to an age-old heritage house filled with Islamic collectables are a must on your itinerary list. Kalba is almost 2 hours away from Dubai, meaning you will have enough time to your favorite playlist while driving to the destination.
Liwa Oasis
It's the uncontested winner of the road-tripping locations in the UAE. Liwa is one of the farthest corners to drive to Dubai, an ideal choice for a true road enthusiast. It is located 340 kilometres away with just roads passing through long stretches of desserts. Travellers with a penchant for dessert safaris can opt for this location for road tripping away from centre to the secluded corners of the glorious desserts. Liwa is also known for its mesmerizing oasis that stretches for over 100 kilometres. There is barely anything as breathtaking as this sight. It was formed about 500 years ago and is one of the largest oases in the Arabian Peninsula. You can opt for adventure driving in the desert or go camel riding.
Zip Lining Adventure at Ras Al Khaimah
While there are many things you can do and try in the emirate of Ras Al Khaimah, zip lining is recommended for all visitors looking to spend their weekend indulged in complete thrill. The Jebel Jess zip line in RAK is the longest in the world, about 2.83 kilometres long. The pricing starts at approximately AED 400-500. Its height is about 1650 kilometres above sea level. You can find several travel agencies offering tours and packages for the same. Since you will need the equipment, you will have to take a dedicated zip line package of your choice. Do so before you hit the road for RAK.
Best 5 Destinations to Fly to from Dubai
If you prefer to be in the air rather than driving the distance yourself, we have some great picks for you to explore. Since you will have the advantage of covering long distances in a shorter time frame, the 5 destinations we have picked for this section are all located outside of the UAE. Let's cover the top 5 places you can fly to on your weekend trips from Dubai.
Salalah, Oman
If heat is the word to beat for this trip, Salalah is a great place to explore. Only 2 hours away from Dubai, it is the second-largest city in Oman and is known for the exceptionally peaceful and quaint aura that surrounds it. The temperature here stays quite moderate all-year round, which means you can not only come here to relax a little far away from the Dubai heat but also in the harsh winters. The beautiful wadis or canyons of Salalah are a sight to remember for sure. Some activities you can explore while being in constant touch with nature include taking dips in natural hot springs of these canyons and mountain climbing.
Amman, Jordan
A beautiful culmination of culture, food, varied civilisations, art and heritage, Amman, the capital city of Jordan, can become your ideal vacation destination of all time. It takes about 3 hours by plane to reach Amman. You can expect to find amazing localised cuisines, affordable and beautiful accommodation options and many cultural places to visit. The citadel of Amman, the Umayyad Palace and the Temple of Hercules are some of the best places to explore here. A charming blend of Byzantine, Roman and Ottoman history can be found scattered all over Amman.
Zanzibar
It will take a little longer to get to Zanzibar, but we promise that it is worth all the trouble and wait. Almost a 5-hour-long flight from Dubai, Zanzibar is located right beside Tanzania in the Indian Ocean. The architecture here is a culmination of Indian, Arab, European and African influences. From dance shows and live music to small, intimate restaurants located at the beach, there is something for everyone here. If you are a history buff, visit the Old Fort here or go to the beach for activities like surfing and diving if you are in an "all play, no work" mood. Spice plantation trips and Cheetah Rock trips are something you can try here.
Muscat, Oman
The phrase "old meets the new" comes to life in the port of Oman – Muscat. Combining high-fashion shopping mall culture with historical sites like Portuguese forts, Muscat offers a taste of almost everything that a successful vacation must have. Sultan Qaboos Grand Mosque is the most popular site in Muscat and is frequently visited by many tourists from the UAE. Wadi Bani Khalid is also a wonderful site to visit when you are in Oman. Surrounded by scattered palm trees and rocks, it is a wonderful place to be at. The Royal Opera House is always studded with music concerts and shows. You can all enjoy shopping and fine dining here. Other prominent sites to visit include Qurum Beach, Al Alam Palace, Muttrah Souq Market and Bait Al Zubair Museum.
Tbilisi, Georgia
A place dominated by historical references, Tbilisi is a place every history enthusiast in Dubai should consider visiting. It is the capital city of Georgia and is filled with gorgeous architecture that explains the long-standing, controversial history of Russian and Persian rule here. You can expect many Soviet-era modern buildings here, structures with a dominating presence of eastern civilisation and several cathedrals. Visit the old town if you are looking to get a real taste of what it is like to be in Georgia. Go on a cable car adventure, or on a trip to the Kura River and taste the local specialities of Georgia with a glass of rich wine.
Last Minute Essentials
In the craze of the upcoming extended weekends and Christmas and New Year's holidays, do not forget that we are still fighting a pandemic. There are a few things you must keep in mind when making travel plans and some important steps you need to take before you can embark on your trip. Below is a list for you to follow:
Get a proper travel insurance plan if you decide to fly out of the UAE for your weekend trip. While it is not compulsory in all countries to have travel insurance, it makes sense to get one given the complications that Covid-19 brings. In addition to offering you all the basic benefits related to the trip, health and accommodation, travel insurance in the UAE will also offer Covid-19 specific benefits.
Get your RT-PCR tests done as per the guidelines posted by the country you are visiting. Make sure that you have researched and understood the travelling formalities properly.
Download the Al Hosn application to make Covid-19 checks a lot easier and smoother. You can use the application to show your RT-PCR tests and have all other Covid-19 related services on a single platform.
Pack light but carry all your essentials.
Vacationing is one of the best ways to kick start the new year. However, considering the present time, it's our job to stay extra careful while staying at near and far locations. When you're away, you will be tempted to sit back and let go of all your inhibitions, but it's best not to do so. Buy a comprehensive travel insurance plan, conduct your research about the place you're to visit and follow Covid-19 related protocols to stay safe at all times. With all these things in order, you are sure to have a wonderful weekend ahead.