Make Your New Year's Eve Enjoyable with These Exciting Events!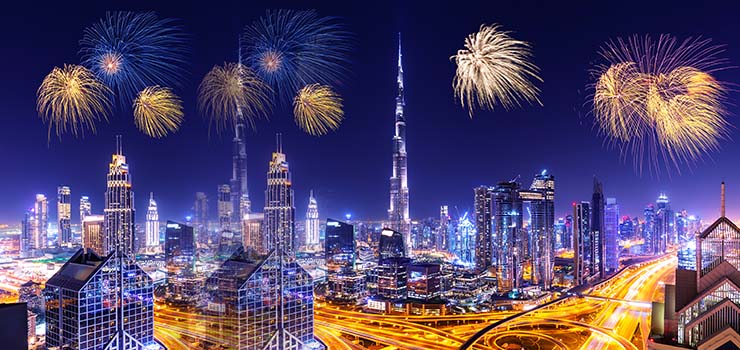 As we bid farewell to 2022 and embrace the new year, the UAE is preparing to welcome 2023 with a bang! From fireworks displays to concerts, dinner parties to desert safaris, there is no shortage of exciting events and activities to enjoy in Dubai this New Year's Eve. In this article, we will highlight some of the most anticipated events happening in the city on December 31st. So get ready to ring in the new year in style with these must-see celebrations.
Watch Fireworks with Your Dear Ones
Dubai is hosting several fireworks events across the city for you to enjoy with your friends and family.
Some of the prime spots hosting fireworks are -
Dubai Mall and Burj Khalifa – You can visit the Dubai Mall to watch the Dubai Fountain, a light and water show that develops into an epic grand finale at midnight. To enjoy the view, you can reserve a table in Souk Al Bahar or Sheikh Mohammed Bin Rashid Boulevard.
Address - 1 Sheikh Mohammed bin Rashid Blvd, Downtown Dubai
Al Seef :
You can visit this heritage district located by Dubai Creek. Here, you can enjoy the picturesque views of the Emirate in traditional dhows and heritage architecture. You can also enjoy the fireworks display even from the waterfront restaurants like Skafos, which hosts an assortment of Italian, Greek, and Spanish cuisines.
Address - Al Seef Street, Opp. the USA Embassy, Dubai Creek Side, Dubai
La Mer :
Visit La Mer with your family to combine the fireworks starting with the exciting activities outdoors. The site has interesting activities and rides for every age group. The younger ones can have a gala time in Hawa Hawa, an outdoor trampoline park or enjoy water rides in Laguna.
Address - Jumeirah 1, Dubai - United Arab Emirates
Madinat Jumeirah :
Madinat Jumeirah is renowned for hosting New Year's gala dinner along with spectacular fire dances, live entertainment, music, and more. You can witness some spell-bounding fireworks displays at the Kite beach in the area. Simply carry beach mats to spend time under the starlit sky.
Palm Jumeirah :
Another place to enjoy awe-inspiring fireworks is Palm Jumeirah. Among the underrated sites, Palm Jumeirah Boardwalk is open to the public on New Year's Eve and has some of the best spots like hotels and restaurants from where you can enjoy firework displays.
Burj Al Arab :
Enjoy a relishing dinner under the charismatic New Year's Eve fireworks at Burj Al Arab. This place has around 40 restaurants and lounges that offer delicious cuisines.
Dubai Festival City Fireworks :
This is a four-hour fireworks display that begins at 9 pm at the IMAGINE theatre. The theatre also hosts a larger-than-life aquatic light show that would surely mesmerise you.
Appreciate the Beauty of the Emirate from a Dinner Cruise
You can also indulge in a classy dinner on some of the most luxurious cruises in the city on this New Year's Eve. Breathe in the beauty of the enchanting skyline while you relish delicacies and enjoy live shows and more.
Here are some gala dinner cruises you can go on –
QE2's Gala Dinner :
QE2 is a perfect cruise ship to savour some rare delicacies while enjoying the picturesque view of the Dubai skyline. The Gala Dinner is a classic black-tie event and features a seven-course meal and delicious drinks to relish while a live band plays your favourite music. If you are not in for a Gala dinner, you can also enjoy a Tea Party on the Boat Deck.
Dhow Cruise Luxury Dinner :
You can also sail around in Dubai Creek and enjoy multi-national cuisines in a glass-enclosed vessel as well as the breathtaking views of the Emirate. The traditional dhows also have a massive open terrace and an outdoor deck that offers you a glistening view of the skyline. Relax on the deck as you enjoy the scenic view of Dubai's iconic landmarks and even get an obstruction-free view of the fireworks display.
Prep Yourself for Happening Parties
If you are a people person, you would certainly be interested in some happening parties scheduled across Dubai. Some of the best parties taking place are -
Disco Till Dawn at Dubai Opera :
Have a gala time as you enjoy this disco-themed party at Dubai Opera. You can get an opportunity to enjoy performances of some of the internationally-recognised dancers like Jasmine and Aaron. You can also groove to the beats that DJ Bliss and DJ Kezawill play for you.
Kylie Minogue at Atlantis, the Palm :
Do not miss the chance to witness the Australian legend Kylie Minogue sing some of her famous hits. This Atlantis party also has some mouth-watering delicacies that are worth trying like lobster and caviar. Don't forget to wait till midnight for astounding fireworks displays accompanied by 30-piece live band music.
Yacht Party :
You can party on a luxurious yacht and welcome the new year in style. Indulge in rare delicacies like hors d'oeuvres, feasts from live cooking stations, and drinks from an ultimate open bar with top-shelf beverages. The top international DJs will continue to entertain you throughout the night. Several luxury yachts in Dubai Marina, Blue Water Bay, and Palm Jumeirah host such parties.
Groove at Club Armani/Prive :
This is one of the top clubs in Dubai and will host music from the best international DJs. Dance on the beats of chart-topping tunes and ring in 2023 with the best of your energy.
Big Art Festival at the Theatre :
Put on your dancing shoes and dance to the hits of the iconic Ivanushki International, a Russian boy band. The event is to take place at The Theatre, Dubai. Also, enjoy a gala dinner and entertaining festivities with your family.
At this Big Art Festival, you can also get an opportunity to enjoy performances from Dr. Alban, Tomas Nevergreen, Dutch band Ten Sharp, and a stand-up performance of the famous Russian comedian Artur Pirozhkov.
Soho Garden :
Dance on the beats of live DJ remixing some of the popular international beats at Soho Garden. This place is particularly extravagant on New Year's Eve. Enjoy live performances of prominent artists from across the world. Around midnight, you can also witness dramatic fireworks show from Burj Khalifa.
Tighten Your Seatbelts and Go on Desert Safari
Nothing can be better than indulging in some adrenaline-inducing activities to welcome 2023. You can go for a desert safari in the massive Arabian desert and enjoy a scenic sunset while savouring some enticing BBQ dinner events in the dark, starry night. One such event taking place at the Sonara camp is Desert soiree. This luxurious camp is hosting a starlit gourmet dinner accompanied by live band performances, fire shows, and peppy music played by an international DJ.
Another desert camp worth exploring is the Bedouin desert camp. You can truly indulge in a thrilling desert safari to reach the camp where you will be welcomed in a traditional Arabian style. Relish a delicious buffet that includes barbecued meats, salads, an assortment of main course recipes, and delightful desserts. You can even enjoy camel rides, sand boarding, henna painting, and classic belly dance performances in the evening.
Dine in the Top Cafes
You can experiment with your taste buds and indulge in a divine food experience by dining in some of the best restaurants and cafes in Dubai on New Year's Eve night. Most of these restaurants are near spots that offer a clear view of the extravagant fireworks displays.
Here is the list of top establishments worth exploring -
Ce La Vi - Enjoy a spectacular view of Downtown Dubai from this 54th-floor restaurant, which is worth exploring for its delicious Asian cuisine. The restaurant has terrace tables that offer a lovely view of the Burj Khalifa. On New Year's Eve, you can even expect to meet and greet some celebrities in this high-rise restaurant.
Lucia's - This year, the staff at Address Sky View's Lucia, an Italian restaurant, has assured an unforgettable New Year's eve night. Along with mouth-watering delicacies you can expect live entertainment from the singing sensation Mr. T-Bone, the famous jazz group Bandakadabra, and Anastasia McQueen - a saxophone player.
Jun's - At Jun's, North American cuisine meets Asian cuisine as chef Kelvin Cheung prepares some of the best delicacies in the world. You can explore the restaurant menu for seared scallops, lobster with cheddar biscuits, baked Alaska tiramisu mochi, and so much more.
Via Toledo - Relish authentic Italian cuisine at Via Toledo, a restaurant that takes you back to the prohibition era for a retro-tastic New Year's Eve celebration. Savour Mediterranean cuisine and enjoy live entertainment with DJs performing, fire shows, Arabic dance, and more. You can also explore the terrace area of the restaurant to get a glimpse of scenic Ain Dubai, fireworks, and the Palm Jumeirah skyline.
SushiSamba - Located on the 51st floor at St. Regis, SushiSamba is hosting a white-themed New Year's Eve party. Explore the sky-high restaurant for Japanese cuisine and enjoy the view of Amazonian interiors and the beats of drummers and dancers.
QD's - Located at Dubai Creek Golf and Yacht Club, QD's is reputed to host some of the most entertaining New Year's Eve events. At this restaurant, you can dive into a gastronomical experience while appreciating the city skyline, live music, and grooving to the beats of the in-house DJ.
Cavalli Club - The Cavalli Club is the destination for all free spirits and social butterflies as it is well known for throwing the most extravagant parties in the city. Grab your camera since you cannot help but capture shots of this ostensibly amazing club that is exquisitely furnished.
Enjoy Dubai Fountain Lake Ride
Heading to the Dubai Fountain for a boat cruise in the lake is one of the best aspects of a new year's celebration in Dubai. This Dubai New Year's Eve activity offers a one-of-a-kind sailing adventure on the historic Abra water vessel as you cruise by the spectacular Dubai Fountain.
You may take in the numerous musical and light performances of the 900-foot-tall fountain, which sprays water and moves to the rhythm of live music while taking a lake ride. The highlight of your New Year's celebrations in Dubai will undoubtedly be this lake ride, which is situated next to the highest-performing fountain across the globe and is surrounded by glittering skyscrapers, fireworks, and breathtaking scenery.
The 50 visual projectors located here add colour, which further enhances the overall experience of witnessing what is regarded as the best entertainment in town while relaxing on a motor boat with your dear ones.
Spend a Leisure Evening at Global Village
The Dubai Global Village is a further intriguing location that you should explore while in Dubai. You can have the best experience here whether you want to have fun with your family or simply wish to explore the entire area on your own. With 30 pavillions in the attraction, the Global Village is, as its name implies, a site where you can find anything indeed!
Dubai's Global Village Dubailand is certain to be the largest amusement park, tourist destination, and leisure destination in the world. It is the first social, amusement, family, and shopping objective for the neighbourhood. The halting area at Global Village was designed to accommodate more than 17,000 cars, with additional flood-stopping areas being used during peak hours.
As Global Village synchronises with other locations across the world, you can ring in the New Year at least seven times there. A special countdown at the Main Stage and a fireworks spectacular will mark each occasion. Philippines New Year celebrations start at 8 pm, followed by Thailand at 9 pm, Bangladesh at 10 pm, India at 10.30 pm, Pakistan at 11 pm, the United Arab Emirates at midnight, and Turkey at 1 am.
Other Activities, Events & Events Worth Exploring
Besides the activities that we discussed earlier, some other events and places worth exploring are –
Beachside Celebrations at Barasti Beach - Barsati Beach is a paradise on Earth for all beach lovers and foodies. It is situated at the gorgeous view of Le Meridien Mina Seyahi Beach Resort and Marina. The most popular breakfast items include eggs Benedict or pancakes, as well as a great mango smoothie.
Food lovers from around the world come here to satisfy their cravings for a variety of cuisines. The choice is entirely up to you – whether to dance the night away to the DJ's music or sing along to the classics on the main floor. If you don't want any of this and want to embark on a journey of self-discovery, you can walk upstairs to find calm away from the beach's commotion.
Relax and Take a Staycation - Enjoy a relaxing staycation, wake up in 2023, and take advantage of all that the resort you stay in has to offer. Waldorf Astoria Dubai, Five Palm Jumeirah, Raffles Dubai, and Atlantis, the Palm are a few alternatives for this. If you make your plans properly, you may go to their New Year's Eve celebrations, eat wonderful food, or even visit nearby water parks like Wild Wadi in Palm Jumeirah.
Go for a Hatta Adventure - If you prefer the outdoors, you can avoid the glitz and luxury of Dubai and head to Hatta instead. Hatta is a remote outpost of Dubai and Oman nestled high in the picturesque Hajar Mountains. It is a centre for adventure activities including mountain biking, kayaking, trekking, zip lining, and other adrenaline-rush-inducing pursuits.
Visit the area's natural wonders and cultural sites like Heritage Village and Hatta Lake if you want to enjoy a slow-paced life for a while. Hike to the glamping sites like Hatta Damani Lodges and Sedr Trailer Resort as well. These sites are excellent scenic places if you wish to spend a night amidst nature.
Skydiving - If skydiving has been on your bucket list, check it off before the year gets over. You can purchase your tickets before these popular New Year slots sell out if you want to skydive over the Palm Drop Zone and watch all the New Year celebrations from the sky.
Conclude the Year on a Happy Note!
Attend these events, watch the fireworks display and more, and welcome 2023 with a bang. Wishing you all a Happy New Year from Policybazaar UAE!
Policybazaar UAE – Helping you navigate the wilderness of the insurance world!