Shortened Workweek in the UAE – What Does it Mean for You?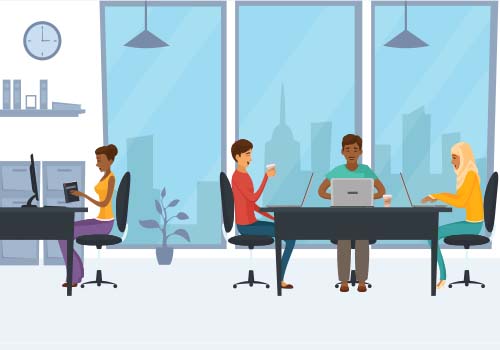 Who doesn't love long weekends? How wonderful would it be if you somehow had eternal long weekends to enjoy for the foreseeable future? Well, if you are living, working or studying in the UAE at this moment, your dreams are set to come true very soon. You may have already seen, read or heard the happy news by now – the UAE is planning to adopt a new workweek system from January 2022 onwards for government offices and schools. This phenomenal change in accordance with the global week-off standards is going to benefit the business and trade of the emirates for sure. But it is going to be equally life-changing for you as an individual as well. Let's understand this soon-to-come change with all the fine details and explore what the shortened workweek of the UAE has in store for you.
What is in Making for Shorter Work week in the UAE?
As per the current news, the UAE Federal Department announced on December 07 that it would change its current workweek of 5 days to a shortened workweek of 4.5 days. This change in the working days will be implemented from January 1st, 2022. The shortened workweek will be applied to all government and federal offices in the UAE as well as all schools, public and private. As per the new regulation, the weekend will be shifted to Saturday and Sunday, while Fridays will be half-day off for employees and students. Schools in the UAE will adopt this arrangement from the first day of their new term.
What Will be the New Working Hours in the UAE?
Currently, before the implementation of the new work-week law, government offices in the UAE function for 7 hours every day and observe two days off. With effect from January 1st, 2022, the working hours will be increased to 8 hours per day. A typical workday will begin at 7:30 AM and end at 3:30 PM on Mondays to Thursdays. The workday will begin at 7:30 and end at noon on Fridays. The private sector employees in the UAE already work 8 hours per day. Hence, there is going to be no change to that for the time being. Any potential changes to be made in school hours are yet to be announced.
Another important change announced in timings is for the Jummah – Friday prayers and sermons. As of now, Friday prayers are organised at noon. But with the new workweek in effect from January 1st, 2022, the sermon timings will be shifted to 1:30 PM on Fridays.
What About Private Sector?
As of now, this provision of a shortened workweek in the UAE has been applied only to government sector offices and schools. However, private sectors have been instructed to adjust the working hours of their employees if they decide to change working days as per the new provision. The Ministry of Human Resources and Emiratisation of the UAE has issued a statement saying that private sectors are free to keep weekends that ensures maximum productivity for them. If Saturday-Sunday weekends are adopted by private sectors, Friday half-day off may become a necessity for them as well. Regardless of it all, private sector companies must still adhere to a maximum of 48 working hours every week.
How Will This Change Level with the Global Standards?
UAE has observed Saturdays and Fridays off for quite a while now. Before that, Fridays and Thursdays were considered weekends in the UAE. However, most countries in the rest of the world observe Saturdays and Sundays as weekends. While the change of week-off from Thursdays to Saturdays was brought to align business days with the world, the lag between Fridays and Saturdays still created a rift. With business and working days aligned with developed countries like the USA, the UAE will have a better scope to improve the economy and take a stand in the competition with a stronger footing. Exchange of trade with the world becomes much smoother and easier with workdays and week-offs aligned perfectly.
Friday or Fri-Yay – What Does the Long Weekend Have in Store for You?
The new workweek in the UAE and the extended weekend will open some new doors of possibilities for you as an individual. If your office is also adopting the new weekend system, as proposed by the Labour Minister of the UAE, here are some ways to make the most of it:
Short Trips are Now a Weekly Reality
With the two days completely off and one half-day off, long weekends in the UAE will give you ample time to explore all the exciting places you are yet to visit in the emirates. If you are a fan of road trips or say adventure driving, you will have enough time to not only complete the trip but also come and rest properly before starting your work. All you need to do now is find a good travel insurance plan in Dubai, pack your bags on Thursday night and get ready to start your early weekend parties come this new year.
Spend Quality Time with Your Family
One of the biggest dilemmas most working professionals face is that they are never left with enough time to finish pending chores on the weekend, go out and enjoy a little, rest before Monday arrives and still have enough time to spend with their family. With an additional half-day off, government employees as well as school children will have more than enough time to fit their family activities and traditions with everything else they are supposed to cover on the weekend. You can take a short trip to one of the theme parks in Dubai, catch a movie, take a short family trip or spend the day cooking or relaxing. Whatever you pick out from the potential list of 'fun things to do with your family', just make sure you are ready with a good travel insurance plan in case you decide to go on an impromptu trip within or outside the UAE.
Invest in Skill Development
While resting, partying and vacationing are important, one must think about widening their skill set as and when they have a chance. Now that the UAE government has announced a shorter workweek of 4.5 days, both children and adults will have a few extra hours to invest in getting trained in new and exciting things. Be it that cooking course that you have wanted to take forever or a recent training program that you want to join to gain better professional skills related to your field, expanding your horizons is quite easy now. In addition to that, since your children will also have an additional half-day off, you can even take a child-parent class to connect better with your kids. Options and possibilities are endless now that the time restraints have been reduced.
More Time to Recharge and Revamp
If you think that getting ready for work after a two-day long weekend while completing all the chores is quite difficult, rejoicing is in your stars now. Since you can spend the half-day off completing chores, the rest of the weekend remains open for relaxing and recuperating for the workweek ahead. After all, just a few extra hours of sleep can make all the difference there is.
Welcome Better Work-Life Balance
Apart from bringing the UAE to the global standard of working days and increasing productivity, supporting better work-life balance is the biggest reason for introducing the 4.5-day workweek in the UAE. How satisfied an employee is with their organisation highly depends on the kind of work-life balance they get to maintain. A shorter workweek will give you ample time to manage your personal life and complete your obligations that are not work-related.
More Time to Invest in Your Health
It may seem mundane, but your body and health need investments to stay in good shape as well. Now, these investments can come in the form of health seminars, routine check-ups, simply resting, eating healthy or joining exercise clubs. When you have more time on hand to invest in yourself, your health gets a boost of serotonin, resulting in a healthier and happier mood throughout the week. Join health camps organised by your health insurance providers, go to that gym class you have had your eyes on for a long time or take up weekend yoga.
Friday Prayers Go Uninterrupted
Initially, the UAE followed a Saturday to Wednesday workweek, with Thursday and Friday observed as week-offs for all. Since Fridays are reserved for weekly prayers, they remained in their week-off status. When further improvisation was done to the workweek, it led to Fridays and Saturdays being declared as week-offs and the rest as workdays. Even with the upcoming change in January 2022, Fridays will still be a half-day off to ensure that the Friday prayers are not interrupted.
In a Nutshell
With several adjustments in line to come into effect, this change to a shortened workweek in the UAE is going to bring about some historical changes in the country. One such change is the Friday prayers and sermon timings. Big or small, this change can affect you as a UAE resident or citizen in many positive ways. Just make sure that you are utilising your long weekend ideally, with zero to no scope for wasting time doing nothing unless you enjoy it. Be prepared with your travel insurance if you plan to use this new change to explore the UAE or get those health packages that you have been stalling forever. Whatever you pick, plan properly and execute to make the most of the upcoming new workweek and the new weekend in the UAE.