A personal loan is the best option for borrowing money when you do not want to borrow it from your relatives or friends. Banks and financial institutions offer personal loans in the UAE at a reasonable rate of interest allowing you to repair that ceiling or fund the education of your child or pay for any other hefty expense. Abu Dhabi Commercial Bank offers easy personal loan at lower interest rates to ensure that personal loan does not become a matter of concern for you.
Procedure to apply for a personal loan in ADCB
You can choose an offline or online platform to apply for a personal loan in ADCB
Applying for Personal Loan in ADCB offline:
Visit the nearest ADCB branch
Request for Personal Loan form
Fill in the form
Submit a copy of the required documents along with the form
The bank will check and verify your documents and transfer the required loan amount within few working days
ADCB also gives you the option of comfortably applying for a Personal loan in ADCB online. To avail of this facility follow these steps: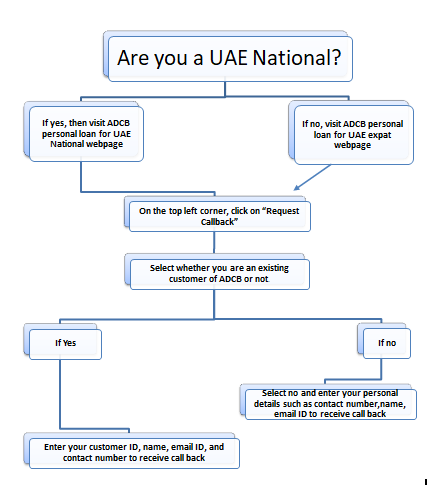 ADCB existing customers can receive personal loan approval within 10 minutes through ADCB Hayyak Mobile App
You can also apply for a Personal Loan in ADCB by calling the contact center number 600 50 2030 anytime.
ADCB also allows you to apply for a personal loan through SMS. Send 'PIL' from your registered mobile number to 2626
Apply for a personal loan through policybazaar.ae
Alternatively, you can also find the best personal loan offers for Abu Dhabi Commercial bank on policybazaar.ae and receive a personal loan from ADCB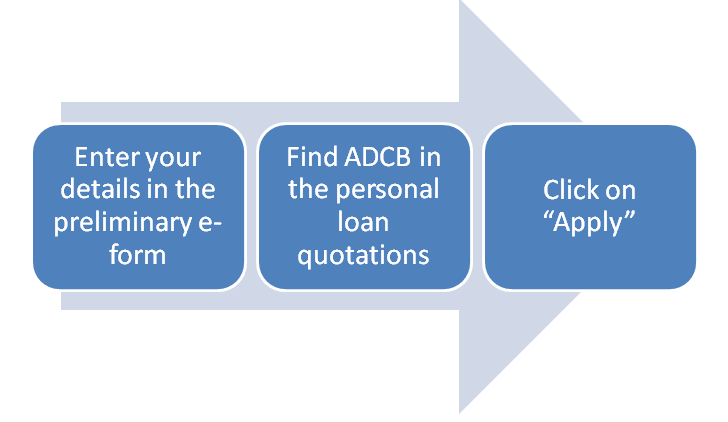 The team of experts at policybazaar.ae will refer to your application and guide you to receive personal loan from ADCB easily.
Benefits of applying for personal loan from ADCB
Loan Consolidation
Salary draft up to 3 times (2 times for expatriates)
Convenient financing
Simple process of documentation
Low interest rates
High Salary multiples
Complimentary ADCB Credit card
Earn touch points
Finance Structure
| | UAE Nationals | Expatriates |
| --- | --- | --- |
| Maximum finance amount (AED) | Up to 3 times of your salary | Up to 2 times of your salary |
| Maximum tenure | 48 months | 48 months |
| Rate of Interest | 4.25% per annum | 5.25% per annum |
| Touch Points | Up to 300 for every AED 1000 of loan amount | Up to 300 for every AED 1000 of loan amount |
You can use the personal loan calculator on ADCB personal loan webpage to calculate the amount you will require paying according to the interest rate and tenure. All you need to do is:
Specify the amount you need to borrow
Select the tenure
Documents required
Valid Passport
EIDA Card Copy
Salary certificate addressed to ADCB, not older than 30 days from the date of loan application
Duly filled application form
Bank statement copy of last 3 months
Details of existing loans and liabilities
The aforementioned list is not complete or absolute. The bank may require other or more documents to sanction your loan.
Am I eligible to receive a personal loan from ADCB?
If you are a UAE National or resident aged 21 or above, you are eligible to receive a personal loan from ADCB
Points to remember:
The amount of maximum personal loan that will be sanctioned to you will be determined by your monthly salary
The bank will charge an additional one-time fee for life insurance cover