HSBC Bank represents one of the largest and most reliable international banks that have operations in the UAE. It has positioned itself to provide both business and personal banking services. Customers may avail multiple services ranging from digital banking, insurance products, loan advances and so on. Moreover, HSBC is attempting to reach out to the clientage in different sections in the UAE through its credit card options. These credit cards offer some significant lifestyle and miscellaneous benefits so that the clients may enjoy the perks they desire. Discussed below are the credit cards available and the finances and conditions that are involved.
HSBC provides two options for its esteemed clients who wish to avail of a credit card with special features and benefits. They are the HSBC Advance Credit Card and HSBC Platinum Select Credit Card.
Best HSBC Reward Points Credit Cards in UAE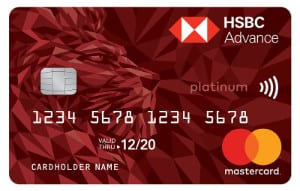 HSBC Advance Credit Card
Balance Transfer
Movie Discounts
Airport Lounge Access
Free for Life
Valet Parking
Features & Benefits of HSBC Advance Credit Card
On signing up, the client gets an immediate benefit of AED 100 voucher that may be redeemed on Sharaf DG. Sharaf DG is a useful customer service site, where the client may purchase a host of goods and accessories ranging from electronics, home appliances, cosmetics, etc. This reward is intended to boost the reach of the e-commerce site.
The client can get free access to the HSBC Entertainer app. It is exclusively allowed only to primary HSBC cardholders. No fee shall be levied and it will be available on App Store SM and Google Play. The Entertainer app has features where the client may access the in-app hotel booking engine, which allows them to book a large selection of hotels at convenient rates. There are three types of offers that are available in Entertainer gateways - discounted, one-night stay offer and exclusive offers.
Free access to several airport lounges across the Middle East and North African region.
The card comes with a scheme for Air Miles rewards, which can be earned through expenses made through this card. Every 1 AED spent will earn 1 Air Mile, and this may be redeemed at airport retail outlets, hotels, etc.
The exchange ratio that is applicable is 12 Air Miles are convertible for 1 Skywards Miles and 9 Air Miles for 1 Etihad Guest Mile.
It should be noted that the Air Miles shall hold valid for a maximum duration of 3 years only.
Complimentary parking of the client's vehicle at select locations and destinations that are maintained by the prestigious Valtrans management systems. Of course, this is subject to the condition that the client shall spend a minimum of AED 3000 per month.
Moviegoers have an extra incentive to go for this card, as there is a "Buy 1 Get 1" offer on all sorts of movie services, ranging from 2D, 3D or 4D screening. Other discounts shall also apply on movie tickets.
A team of financial advisors can be consulted for any queries or doubts that the cardholder may have about the financial options available to them.
Fees & Charges for this HSBC Rewards Credit Card in UAE
| Minimum Salary | AED 15000 |
| --- | --- |
| Rate | 3.45% |
| Annual Fee | AED 0 |
| Non AED Transaction Fee | 2.10% |
| Cash Advance Fee | 2.99%, Min 105 |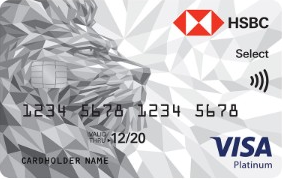 HSBC Platinum Select Credit Card
Balance Transfer
Movie Discounts
Airport Lounge Access
Free for Life
Valet Parking
Features & Benefits for this HSBC Reward Credit Card
Air Miles can be considered as the flagship loyalty program of HSBC UAE Credit Cards that rewards cardholders with Air Miles each time they make use of the HSBC Credit Card.
1 Air Mile will be earned by the cardholder for every AED 4 spent. It should be noted that the Air Mile scheme shall be valid for only 3 years.
These Air Miles can be redeemed for hotel stays, purchasing flight tickets for travel, etc.
HSBC Entertainer mobile app can be accessed for free by the person using this card. It includes a whole suite of unique features, which can be cashed in on to enjoy lunch, home delivery offers, customer service, complimentary access to fine dining restaurants and so on.
The cardholder can also avail of Visa Luxury Hotel collection offers.
In case the person wishes to avail of travel services, they may use the Agoda travel company's website where they will be entitled to a discount of 12%.
If hotels are being booked by the client on hotels.com, they can avail a discount of 8%.
If the client wishes to enjoy soothing music, they may download Anghami Plus and enjoy a free subscription for up to four months. It is an ad-free music service where the client may download songs for offline listening, following lyrics, etc.
A maximum of 10 tickets in a month can be purchased at Vox Cinemas under the Buy 1 Get 1 scheme.
The client can enjoy privileged service at hotels or restaurants of their choosing using their Dragon Pass Dine and Fly offe
Fees & Charges for this HSBC Reward Credit Card
| Minimum Salary | AED 10000 |
| --- | --- |
| Rate | 3.45% |
| Annual Fee | AED 0 |
| Non AED Transaction Fee | 2.10% |
| Cash Advance Fee | 3.25%, Min 105 |
Eligibility Criteria for HSBC Reward Point Credit Card in UAE
In order to qualify for the above cards, the following conditions should be satisfied:
The client has a Personal Banking account
They should be between 21 to 65 years old.
They are residents of the UAE.
A minimum monthly salary of AED 10,000 is required.
Documents Required for HSBC Reward Point Credit Card in UAE
The following original documents need to be verified and attested by a bank official:
Recent passport size photograph of the applicant.
Self-attested copy of a valid photo identity proof.
Attested copy of the address proof.
How to Apply for HSBC Reward Credit Card in UAE
There are generally three ways to make an application for an HSBC Reward Points Credit Card – online, offline and through a phone call. If the client is a new user of HSBC UAE, they can confirm their eligibility online. Once the application is approved, the card shall be delivered to them within 24 hours.
Other Bank's Rewards Credit Card in UAE