The HSBC personal loan can be availed for a minimum of 12 months and up to a maximum of 48 months.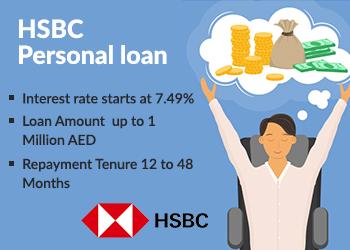 The UAE nationals can borrow a maximum of AED1, 1000,000, while expats are offered with a maximum loan amount of AED 750,000 with reducing interest rate starting from 7.49%.
HSBC Personal Loan Interest Rates
The HSBC personal loan interest rates are reducing in nature, i.e. they get reduced every time the loan holder repays the loan instalment. The interest rate details can be found in the table below.
HSBC Personal Loan
Category
Max. Loan Amount
Tenor
HSBC Personal Loan Interest Rate
Type of Interest

HSBC Personal Loan For UAE Nationals

AED 1,000,000

Up to 48 months

From 7.49%

Reducing

HSBC Personal Loan For Expats

AED 750,000

Up to 48 months

From 7.49%

Reducing
Disclaimer: Interest Rates are subject to change any time.
HSBC Personal Loan Features & Benefits
The HSBC Bank personal loan is available in two variants, for UAE nationals, and for expats. The features and benefits of both have been detailed below.
| Feature | Availability |
| --- | --- |
| Salary Transfer | Not Required |
| Early settlement | Yes 1% of settlement amount |
| Cashback | No |
| Free Credit Card | No |
| Phone Banking | Yes |
The many HSBC UAE personal loan features and benefits can be found in the list below:
Loan Amounts
The expats can apply for is AED 750,000 and UAE nationals can apply for AED 1,000,000 loan amount. Moreover, HSBC bank personal loan does not require any credit life insurance policy and get the loan is 10 minutes while applying online.
Quick Approvals
HSBC personal loans can be availed of quickly and conveniently through the online applications form. HSBC online personal loan applications are typically approved within minutes.
Tenors
HSBC offers flexible tenors for the repayment of the loan amount, starting from 12 months to a maximum tenor of 48 months.
Top-Up Loans
Loan holders may request for a top-up HSBC personal loan basis on the current loan. A top-up HSBC Bank personal loan bears longer tenors, larger loan amounts and competitive interest rates. However, consider referring to HSBC personal loan terms and conditions in this regard.
Renewals
Customers may also renew their HSBC personal loan UAE entirely after 12 months. Renewed HSBC personal loan customers are offered additional incentives for their continued patronage.
How to Apply for HSBC Personal Loan?
When it comes to HSBC UAE personal loan requirements and eligibility, the following criteria remain stringent :
Age
Both UAE nationals and expatriates alike are required to be within the age bracket of 21 years to 65 years in order to avail of a loan.
Income
HSBC personal loan eligibility mandates the applicants to have a minimum monthly salary of AED 7,500 to avail this loan. Minimum income criteria are set to ensure that the applicant has the ability to pay back the loan installments
Work Experience
Individual looking for an HSBC UAE personal loan will be asked to submit the details of their employer and may even be required to have a certain number of months of work experience with the organization.
HSBC Personal Loan Document Requirements
The HSBC personal loan Dubai or other Emirates require the applicants to submit the following Documents:
Passport (for UAE nationals and expatriates both)
Emirates ID (for UAE nationals and expatriates both)
Utility Bills or Tenancy Contract (for UAE nationals and expatriates both) Salary Slip (for UAE nationals and expatriates both)
Banking statement (for UAE nationals and expatriates both) Residence Visa (for expatriates only)
How to Calculate HSBC Personal Finance EMI?
Personal loan EMI can be calculated with the help of HSBC personal loan EMI calculator. This online tool helps the loan seeker to get a rough idea about the amount to be paid as an EMI against a loan amount. This helps in planning HSBC personal loan repayment in a smooth manner. Also known as HSBC personal loan eligibility calculator, this tool can be accessed free of cost on the official website of HSBC Bank. The applicant has to provide some minimum details such as loan amount, rate of interest, repayment tenor etc. to get the EMI details.