Not making your credit card repayments on time can prove to be really troublesome for you in the long run but if you live in the UAE, this default can cost you a lot more!
Every time someone applies for a credit card in UAE, credit card issuers or banks ask for a blank cheque or a security cheque for credit card as a commitment for repayment of the credit card loan in the future. However, the problem begins when you miss your credit card repayment. This is counted as an act of loan default in UAE and legally the banks have a right to get their money back if cardholders are ignoring their bills and the payment reminders by the bank.
Read on to find out what happens if you don't pay loan in UAE: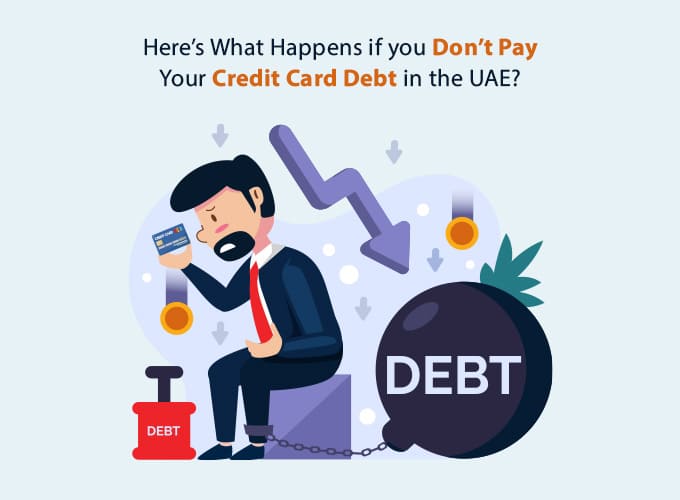 Credit Card Debt in UAE
Whether the reason of missing your credit card bill payment is a medical emergency or a pile of debt in Dubai or other Emiratis that is more than you can afford, struggling to clear off the credit card debts is a problem that many credit card owners confront. When you stop making your credit card payments, you will be charged a late payment fee or a high rate of interest will be imposed upon you which can ultimately negatively impact your credit score. If this continues for a few months, you will be marked as a defaulter for neglecting your credit card settlement UAE and this can have a number of harrowing consequences for you.
Here are a few consequences of having a credit card debt in the United Arab Emirates.
Calls from Debt Collectors
If you have been consistently missing or avoiding your credit card bills & ignoring payment reminders from the bank then debt collectors will contact you. They will keep contacting and even harass you till the time you clear the outstanding dues. First of all, debt collectors start calling you on the bank's behalf and then begin hounding your office as well as residence to get the overdue payments. They will try their best to persuade you either politely or roughly based on how you deal with them. However, it is always a smart idea to reach an agreement with the respective bank before debt collectors starts calling you for credit card payment UAE.
Deposits of Your Blank Cheques
As said earlier, banks collect blank cheques from the applicant during the credit card application process. The respective bank has a full right to deposit that security cheque as per the UAE law for credit card defaulters 2021 to get their money back. If however, even after continuous persuasions; you do not clear your outstanding dues, legal action can be taken against you while at the same time you can not even think of leaving UAE with credit card debt just like you can not attempt to be leaving UAE with bank loan.
But what happens if the cheque bounces?
Once your cheque gets bounced, a police case will be filed against you. In the earlier days, cheque bounce was a criminal offence in the United Arab Emirates, but certain changes in the laws have been made recently marking cheque bouncing a civil offense. So, as per the new law regarding cheque bounce in UAE 2021, you won't be arrested, instead, you will be have to pay a hefty fine.
Police Case against You
Credit card outstanding dues that have been left unpaid for a very long period of time can come back to haunt you in the shape of a police case for credit card.
Did you know?
Police & immigration systems are well-connected. So, there are high chances that you might get stopped at the time of entering or leaving the UAE if you are listed as a defaulter. There are strict laws in the UAE which includes credit card defaulters in UAE travel ban as well as the credit card non-payment legal action in UAE 2021 makes it even stricter.
However, if in case you leave the country with outstanding debt on your credit card you might face a travel ban UAE debt. Therefore, it is not only legally but also morally correct that you pay off your debt even from outside the country. Doing so will also help you avoid getting threatened by 'local debt collectors' or being stopped at the airport if you ever come back to the UAE or are transiting through it. This will also prove to be helpful you in not coming under the radar of the new credit card non-payment legal action under the UAE law for credit card defaulters 2021.
Credit Score Will Be Hampered
The other major consequences of not paying off your credit card debt UAE besides experiencing the nightmare featuring debt collectors & police authorities is that your credit score will take a massive hit. Not only will it hurt your credit score but the unpaid credit card outstanding dues will minimize your chances of being able to avail additional debt in the future as well. Any bank or lender would not be willing to offer you a credit card or any other type of loan with a debt default reflecting on your credit history just like in the case of an unpaid personal loan in UAE 2021.
Final Words
Getting the best credit card in UAE is a very important financial decision and you need to know how to settle credit card debt in UAE before you apply for one. Having a credit card not only makes it easy for you to make purchases without carrying cash but also it helps in building a good credit score. So, this plastic card should not be considered as a free pass to make purchases rather it should be used responsibly so that you can never get trapped into the vicious cycle of debt.
Related Links -
FAQs on Credit Card Debt in UAE