Following the merger between First Gulf Bank and the National Bank of Abu Dhabi, First Abu Dhabi Bank (FAB) was formed in 2016. Presently, it is one of the largest banks in the UAE and has a strong global presence extending across five continents. FAB has been referred to as the safest bank in the UAE and the Middle East by Global Finances. With a range of financial services and products, FAB offers personal & business accounts, investment, and corporate banking solutions.
First Abu Dhabi Bank aims to cater to the banking requirements of its customers with tailor-made products and services. Among various products, the bank offers a variety of FAB credit cards, fulfilling the customers' day-to-day financial needs. Within the credit cards, the FAB Standard Credit Card is free for life and offers amazing loyalty benefits and perks such as high credit limits and interest-free days to the cardholders.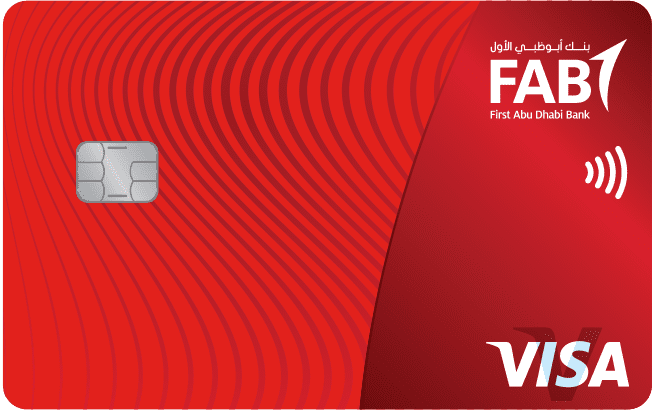 FAB Standard Credit Card
Minimum Salary AED 5,000

Annual Fee AED 0
Airport Meet & Greet
Special Discounts
Airport Meet & Greet
Free for Life
Features of FAB Standard Credit Card
Along with a host of benefits, the FAB Standard credit card comes with various features to help you manage your finances securely and conveniently. The following are the features of a Standard Credit Card by FAB:
Free for Life - The FAB Standard Credit Card is free for life card. This means that the cardholder does not need to pay an annual membership fee to use this FAB credit card.
High Credit Limits - The credit limit of a card is the limit up to which the cardholder can spend on his/her card. FAB Standard Credit Card offers high credit limits to its cardholders.
Interest-Free Days - The holders of a FAB Standard Credit Card can enjoy up to 25 interest-free days on their card. If they make the credit card payment in full within the interest-free days, the bank won't charge them any interest.
Standing Instructions -With the standing instruction feature, the cardholder can make up to twenty payments including school and university fees, utility bills, insurance premiums such as E-vision, Etisalat, and much more – paid at the right time every time. The cardmember no longer has to worry about remembering dates for making payments and there will be no missed payments with this feature.
Credit Shield - Cardmembers can have the desired peace of mind with their FAB Standard Credit Card as the credit shield feature protects them by paying off their outstanding balance if they are unable to make their credit card payment due to any unfortunate occurrence.
Wallet Shield - With wallet shield protection, you won't have to worry about illicit transactions from the robbed or stolen credit card. The bank covers the fraudulent transaction from your lost card, including theft of identification papers or keys.
Benefits of FAB Standard Credit Card
FAB Standard credit card comes with numerous benefits, including lifestyle, shopping, dining, entertainment and a lot more. As a part of the loyalty benefits, the cardholder earns FAB rewards on each and every credit card expense. Following are the key benefits of FAB Standard credit card.
FAB credit cardholders can earn up to 2.5 FAB rewards per AED 1 spent locally or internationally.
The bank offers a high credit limit compared to other credit cards in the same segment.
As a FAB Standard credit cardholder, you get interest-free days of up to 25 days. The bank won't charge any interest if you pay the outstanding balance in full within this period.
The credit card offers up to 10% cashback throughout the year at leading global online stores. To avail of the discount, you need to shop online using your FAB Standard credit card and register at SHOP SMART via the FAB Mobile app.
The cardholder can redeem their rewards instantly and select from an extensive range of rewards like cashback, shopping, utility bill payments, dining and travel bookings.
For credit card protection, the bank offers credit shield insurance which secures your outstanding card bills. In case of an unforeseen event such as death, permanent disability or loss of employment of the cardholder, the outstanding balance would be waived off.
You can make up to 20 automatic payments with the standing instruction feature of the FAB Standard credit card in the UAE. Standing instructions help you pay regular bills like school fees, utility bills, insurance premiums and more.
The credit card is one of the most affordable credit cards in the UAE.
FAB Standard Credit Card Rewards and Offers
Below are the numerous rewards and offers that a FAB Standard Credit Cardholder can enjoy:
Shop Smart -The cardholder can enjoy a year-round cashback of up to 10% on their online purchases at the leading online stores using the FAB Standard Credit Card. The cardholders can start saving on every purchase made at their favorite online store just by simply visiting the official website of Shop Smart and registering themselves.
Loyalty Programs - Cardmembers can enjoy ultimate flexibility when it comes to loyalty programs. They can switch between the loyalty programs on the same FAB Standard Credit Card at absolutely no extra cost, all year round. The following are the types of loyalty benefits offered:
First Rewards - First Rewards is an exclusive loyalty program that is designed for members of the FAB Standard Credit Card. They are eligible to earn double First Reward Points whenever they swipe their FAB Card at any departmental store or supermarket across the UAE or on all the expenditures made internationally.
They have a wide choice of hundreds of reward vouchers for the purchase of electronics, personal accessories, jewelry, and much more at several destinations. Some of them are as follows:
Abu Dhabi Mall

Cine Royal Cinemas

Khalidiya Mall

Paris Gallery

Lulu

McDonald's
First Cashback - The First Cashback program is one of its kind when it comes to the Cashback Programs offered in the UAE. It guarantees cashback earnings of up to 5%, with no criteria for minimum spending. Additionally, the cashback earned by cardholders has no expiration date. This loyalty program allows cardholders to redeem their accumulated amount of cashback at any time.
Fees & Charges on FAB Standard Credit Card in UAE
The table below states the various fees and charges on the Standard Credit Card offered by FAB:
| FAB Standard Credit Card Fees and Charges | Amount in AED |
| --- | --- |
| Annual Membership Fee | Free for Life |
| Supplementary Annual Membership Fee | N/A |
| Retail Purchase Interest Charges | Up to 3.75% per month |
| Cash Advance Interest Charges | 3.50% monthly |
| Cash Advance Fees | 3.15% of the total amount of cash obtained (a minimum charge of AED 157.5 on each transaction) |
| International Transaction Charges | 2.49% of the transaction amount and the scheme charges |
| Card Replacement Charges | AED 78.75 |
| Fee for Credit Shield Plus | 1.04% of the total outstanding balance |
| Fee for Wallet Shield | Monthly charges of 0.42% of the total outstanding balance |
| Fee for Accident Insurance | Monthly charges of 0.26% of the total outstanding balance or AED 31.5 (whichever is higher) |
| Late Payment Charges | AED 241.50 for the month when payment is delayed, the payment is not made, or the payment is less than the minimum amount due |
| Over Limit Charges | AED 288.27 for the month when the balance due exceeds the credit limit assigned |
| Plan Deferment Fee | AED 262.50 |
| Returned Cheque Fee | AED 210 |
| Monthly Minimum Payment | 5% of the outstanding amount or AED 100 (whichever is greater) |
| Payment Due Date | 21-25 days from the statement date |
| Reprint of Statement Charges | AED 26.25 for every statement |
| Transaction Slips' Copies | AED 26.25 for every transaction slip |
| Processing Charges for Outstation Cheque | AED 52.50 |
| Dispute Verification Fee | AED 105 |
| Issuance of Liability Letter | AED 52.50 |
(Updated as of October 4, 2021)
Eligibility Criteria for FAB Standard Credit Card
Individuals willing to apply for the FAB Standard credit card need to satisfy a few eligibility criteria as mentioned below.
Age - To apply for a credit card, an individual needs to be at least 21 years old or above.
Salary Requirement - Similar to any other credit card in the UAE, the FAB Standard credit card also comes with a minimum salary requirement. To apply for this credit card, an applicant needs to have a minimum income of AED 5,000 per month or above.
Nationality/Residency - Both expats and UAE residents/nationals are eligible to apply for the FAB standard credit card subject to submission of all the necessary documents.
Documents Required to Apply for a FAB Standard Credit Card
After verifying your eligibility for the FAB Standard Credit Card, you need to submit a few documents to the bank, supporting your identity and financial situation. To apply for the FAB Standard credit card, you need to submit the following documents -
A valid passport – original and a copy along with a valid UAE visa with address detail (for expats)
A valid Emirates ID for the UAE nationals and residents
Utility bills, rent/lease agreement, etc. for address proof
Latest bank account statement (Last three months)
Salary Slip or certificate issued by your current employer (not more than a month old)
Note: The bank may ask for additional documents at its discretion for record and verification. To have a hassle-free application, you should keep all the required documents handy during the application process.
How to Apply for a FAB Standard Credit Card?
For the FAB Standard credit card application, the bank provides both online and offline channels. Individuals can choose any method at their convenience. Following are the ways they can apply for a credit card.
Online Application - To apply online, individuals will have to visit the official website of FAB and navigate to the credit card section. Within the list of various credit cards, they need to choose FAB Standard credit card and click on 'Apply Now'. Subsequently, they will have to enter the required contact details and then submit the application. The bank will then contact them for the subsequent application process.
Offline Application - For offline application, the applicants need to locate the nearest branch and visit it with all the required documents. Later, they need to fill the application form for FAB Standard credit card as per the direction of the bank representative. After successful verification of documents, the bank will dispatch the credit card within 5-6 working days.
Other Type FAB Credit Cards Interest Rates & Annual Fees
Given below are the interest rate and annual membership fees for all FAB credit cards:
| FAB Credit Card | Retail Interest Rate Per Month (in %) | Annual Membership Fees (in AED) |
| --- | --- | --- |
| | 3.50 | 315 |
| | 3.25 | NA |
| | 3.25 | NA |
| | 3.50 | NA |
| | 3.50 | NA |
| | 3.50 | 2500 |
| | 3.50 | 1500 |
| | 3.50 | 500 |
| | 3.50 | NA |
| | 3.50 | NA |
| | 3.50 | NA |
| | 3.50 | NA |
| | 3.50 | NA |
| | 3.50 | NA |
| | 3.50 | 0 |
| | 3.50 | 0 |
| | 3.50 | NA |
| | 3.50 | NA |
| | 3.50 | NA |
| | 3.50 | NA |
FAQs on FAB Standard Credit Card