First Abu Dhabi Bank, commonly known as FAB offers numerous tailor-made solutions to enhance the customer experience. They offer a wide range of products and services that satisfy the needs of the consumers. It is one of the world's safest and largest institutions.
One of the famous products offered by the First Abu Dhabi Bank is its credit cards. They have an extensive range of variants, one of them is the FAB Visa Signature Credit Card. It rewards the cardholder for every swipe on the card, along with offering numerous travel, protection, and lifestyle perks.
FAB Signature Credit Card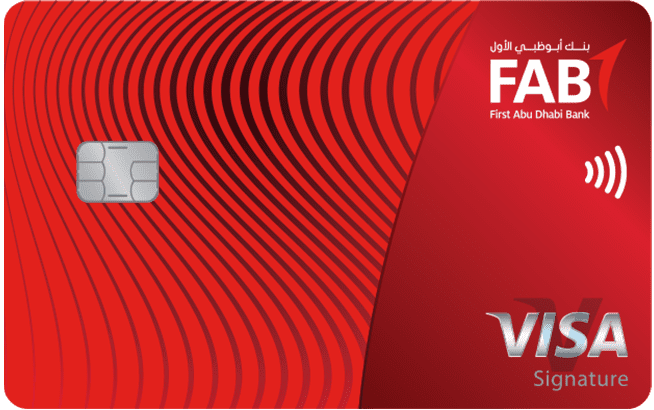 FAB Signature Credit Card
Free for Life
Airport Lounge Access
Special Discounts
Golf Benefits
Valet Parking
Special Discounts
Features & Benefits for FAB Signature Card
Below detailed are the various features and perks offered to the holder of a Signature Card:
Free Balance Transfer
The new FAB credit cardholders can enjoy the facility of a 12-month balance transfer at absolutely no cost. There is also no processing fee charged on this service.
Valet Parking Services
This is a convenient solution for cardmembers to enjoy basic life luxuries. They can make use of up to 2 valet parking services at selected locations on a monthly basis.
24/7 Concierge Facility
Cardholders can make the best out of their trips and have a hassle-free experience with the 24-hour Concierge Facility. This service is set up to help them with a wide range of travel-related tasks.
Airport Transfers
FAB makes it easier for cardmembers to reach the airport right on time. They can make use of the airport transfer services for up to 2 times in a year.
Airport Lounge Access
The cardholder can have a smooth pre-flight experience with his or her FAB Signature Card. The Signature Card allows them to have access to more than 1,000s of airport lounges across the globe for the primary cardholder along with a guest.
Travel Accident Insurance
Cardholders can get complimentary travel accident coverage for an amount of up to USD 500,000.
Worldwide Purchase Protection and Extended Warranty
The cardmember can enjoy purchase protection along with an extended warranty of up to 12 months on top of the manufacturer or retailer's warranty.
Protection against Fraudulent Transactions
Cardholders are automatically protected against any fraudulent or unauthorized transaction on their FAB Signature Credit Cards.
International Travel and Medical Assistance
If you have paid for your travel using your FAB Signature Card, you are eligible for complimentary international medical and travel insurance for both you and your family members when traveling abroad for up to 90 days.
This coverage includes a cover for Emergency Medical Expenses for an amount of up to USD 150,000, Trip Cancellation cover for an amount of up to USD 5,000, and cover for Delayed Departure of USD 42 for every hour (up to USD 1,000).
Credit Shield
Peace of mind can be obtained by the cardmember as their outstanding balance is covered for if they are unable to make the payment on their credit card because of unfortunate circumstances.
FAB Visa Signature Credit Card Offers
Get a guaranteed AED 1000 travel voucher on card activation to use for travel bookings on the FAB Travel Portal.
Local & International Airport transfers - Get up to eight free airport transfers a year within the UAE no matter which airport you are using.
Redeem across 800+ airlines, 500,000+ hotels and car rental and One complimentary night for every three paid nights when booked through the FAB Travel Portal.
Unlimited free access across over 1000+ airport lounges globally for the cardholder.
Flexibility to choose and plan your Travel using FAB travel Portal
FAB Visa Signature Credit Card Rewards
The following are the rewards and offers given to the members of a FAB Visa Signature Card:
Reward Stars
The cardholder is eligible to earn 1.75 Stars for every AED 1 spent on the Signature card internationally, and 1 Star for every AED 1 spent on the Signature card domestically. The accumulated reward stars can be redeemed across a variety of miles such as Skyward Miles from Emirates, Etihad Guest Miles, or to book flights with an airline via the Stars Travel portal.
Cardmembers are also eligible to enjoy special discounts and offers across selected premium restaurants, lifestyle venues, and retailers in the UAE.
Visa Golf Discounts
With Visa Golf, the cardholder can enjoy exclusive discounts on the extremely prestigious golf courses in UAE.
Movie Tickets Starting at AED 15
This is for all cardholders that are movie buffs. With their FAB Visa Signature Credit Card, they can enjoy every month up to 4 tickets at discounted rates on the weekdays with Cine Royal, Oscar Cinema, and Reel Cinemas and at AED 20 on the weekends with VOX Cinemas.
Shop Smart
The cardmember can enjoy a year-round cashback of 10% at the leading online stores when using this FAB Credit Card. They can simply visit the website of Shop Smart and register themselves in order to save on every online purchase made with their favorite stores.
Visa Offers
Holders of the FAB Signature Credit Card have access to 100s of top-class offers with Visa.
Fees & Charges of FAB Signature Credit Card
The following table details the fee and charges on a Signature Card offered by FAB:
| Fee and Charges | Amount |
| --- | --- |
| Annual Membership Fee | N/A |
| Supplementary Annual Membership Fee | N/A |
| Retail Purchase Interest Charges | Up to 3.50% monthly |
| Cash Advance Interest Charges | 3.50% monthly |
| Fee for Cash Advance | 3.15% of the total amount of cash obtained (a minimum fee of AED 105 for every transaction) |
| International Transaction Charges | 2.05 % of the transaction amount and scheme charges |
| Card Replacement Charges | AED 78.75 |
| Fee for Credit Shield Plus | 1.04% of the total outstanding balance |
| Fee for Wallet Shield | Monthly charges of 0.42% of the total outstanding balance |
| Fee for Accident Insurance | Monthly charges of 0.26% of the total outstanding balance or AED 31.5 – the higher amount |
| Late Payment Charges | AED 241.50 any month when payment is delayed, the payment is not made, or the payment is less than the amount that is minimum due |
| Over Limit Charges | AED 288.27 any month when the balance due is exceeding the credit limit assigned |
| Plan Deferment Fee | AED 262.50 |
| Returned Cheque Fee | AED 210 |
| Monthly Minimum Payment | Maximum of 5% of the outstanding amount or AED 100 |
| Payment Due Date | 21-25 days from the statement date |
| Reprint of Statement Charges | AED 26.25 for every statement |
| Transaction Slips' Copies | AED 26.25 for every transaction slip |
| Processing Charges for Outstation Cheque | AED 52.50 |
| Dispute Verification Fee | AED 105 |
| Issuance of Liability Letter | AED 52.50 |
Eligibility Criteria for FAB Signature Credit Card
For a credit card seeker to be eligible to apply for a FAB Signature Credit Card, he or she must be having a minimum monthly salary of AED 15,000.
FAQs on FAB Visa Signature Card