The FAB infinite credit card allows the cardholder to intensify their travel experience by enjoying better services at a cheaper price. The FAB Visa infinite card is a card that makes your lifestyle global and allows you to travel like a connoisseur. The card comes with a plethora of features and benefits to make your credit card user experience like never before.
The FAB Visa infinite credit card offers free access to more than 1000+ airport lounges in more than 298 cities all across the globe. Furthermore, the card comes with complimentary Travel insurance to make your travel securer and safer.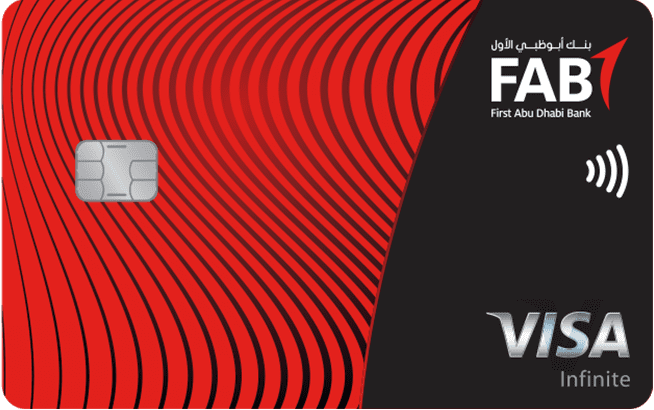 FAB Infinite Credit Card
Free for Life
Airport Lounge Access
Special Discounts
Golf Benefits
Features and Benefits of the FAB Infinite Card
Here's a rundown on the various features and benefits of FAB infinite card-
Valet Parking - The FAB infinite credit card comes with a feature of valet parking so that you can enjoy all the luxuries in life. Cardholders can enjoy up to three valet parking in a month at selected locations.
Discounted Movie Tickets - The FAB infinite is the best-suited card for cinema maniacs, cardholders can enjoy up to eight movie tickers every month at a discounted price of just AED 15 during the weekdays and just AED 20 during the weekends with selected theaters. The Cinemas include Reel cinemas, VOX cinemas, Cine Royal and Oscar cinemas.
Enjoy Golf with Visa Golf - If you are somebody who has an interest in gold then this card has something to offer that is unbeatable. With the visa golf, you can enjoy golf and avail jaw-dropping discounts at some of the best golf courses in the UAE.
Travel free with 24x7 Concierge Service - The FAB visa Infinite credit card comes with a 24x7 concierge service that helps individuals with a wide variety of responsibilities whilst traveling. Cardholders can make use of the service by simply calling toll free numbers '800 0441 3487' or '971 4361 1234'.
Exciting Cashback and Discounts on Shopping - With the FAB infinite Visa Card enjoy shopping with discounts at selected outlets. Furthermore, get cashback up to 10% annually at most of the leading outlets using the FAB credit card.
Visa Offers - The FAB visa infinite cardholders are entitled to receive all the benefits that are valid for visa cardholders worldwide.
Travel Benefits on the FAB Infinite Credit Card
The travel benefits on the FAB visa Infinite Credit card are as follows-
Airport Transfers - If you hate the hustle of reaching the airport on time, the FAB visa card has the facility of airport transfer under which cardholders can make use of six airport transfers annually at a cost of AED (for within the city service) or AED 100 (for inter-city service). Cardholders can book the airport transfer facility by dialing the toll-free number 04-8713411 / 04-43285883.
Meet and Greet Service - Traveling to a new and exotic destination looking for a warm welcome, the FAB visa Infinite credit card offers meet and greet service for its customers. Cardholders can enjoy 6 meets and greet in a year at the cost of AED 40 for individuals and AED in case of family bookings. Cardholders can contact the 24x7 customer support or book their meet and greet online via the website.
Airport Lounge Access - The FAB visa Infinite card gives you the freedom to travel like a free bird. Cardholders can enjoy free airport access at more than 1000+ airports in more than 290 countries. You can relax in between tiring flights, take a shower, get some breakfast or lunch, a power nap, or maybe access some internet.
Jet Set Careem - If you are a backpacker or a frequent traveler, Visa gives you a discount of 50% off on up to 4 airport transfers with careem that would cost you (AED 50). To avail of a special offer, you can enter the promo code UAEVI50 and use your FAB visa infinite card to pay for your airport transfer with careem.
FAB Infinite Credit Card Offers
Get a guaranteed AED 1500 travel voucher on card activation to use for travel bookings on the FAB Travel Portal.
Local & International Airport transfers - Get up to eight free airport transfers a year within the UAE no matter which airport you are using.
Redeem across 800+ airlines, 500,000+ hotels and car rental and One complimentary night for every three paid nights when booked through the FAB Travel Portal.
Unlimited access to over 1,000+ Airport Lounges globally for the cardholder and one guest.
Flexibility to choose and plan your Travel using FAB travel Portal
Rewards on the FAB Infinite Credit Card
FAB visa infinite card users can exchange their rewards and earn points against a variety of lifestyle or travel-related offers-
Cardholders earn 1.25 stars on spending AED 1 domestically and 2 stars for spending AED 1 internationally.
Cardholders can redeem their stars for Airmiles of Etihad and emirates to book tickets online at discounted prices from any portal. 3.
Cardholders can redeem these stars at selected outlets in the UAE and attain discounts in venues like restaurants and lifestyle venues.
Apart from the above-mentioned rewards there are a plethora of lifestyle-related rewards and offers that you can redeem.
Protection with the FAB Visa Infinite Credit Card
The FAB visa Infinite Credit card offers several protections to safeguard your transactions and protect you from fraudulency during travel. Here's a rundown-
Travel Accident Insurance - With the FAB visa Infinite Credit card, you get complimentary accident insurance on travel worth USD 1 million. With this travel accident insurance, you can travel with an enhanced feeling of security.
Purchase Protection and Extended Warranty - FAB visa Infinite cardholders can opt for purchase protection and extended warranty for a period of months beyond the warranty offered by manufacturer or retail warranty.
Protection against Fraudulent Transactions - The FAB Visa Infinite credit card is safe and protected against unauthorized transactions or fraudulency.
Medical Travel Assistance - The FAB Visa infinite card allows you to get free medical and traveling insurance within the first 90 days of your travel to a location outside your country's native jurisdiction. This medical and travel assistance includes a useful emergency cover of USD 1 million along with a shortening cover of USD 7500 and the delayed departure coverage worth USD 1000.
Eligibility Criteria of FAB Infinite Credit Card
The table below encompasses the eligibility criteria of the FAB Visa Infinite Credit Card-
**rate of interest is subject to change
Others FAB Credit Cards -
FAQs on FAB Infinite Credit Card
Q1: Can I Access the airport lounge using the FAB Visa Infinite Credit Card?
Ans: Yes, you can access more than 1000+ airport lounges across 300 countries worldwide.
Q2: What is the minimum salary requirement for the FAB Visa infinite card?
Ans: The minimum monthly salary to apply for the FAB Visa Infinite card is AED 30000.
Q3: Do I get the feature of valet parking?
Ans: Yes, cardholders get the feature of up to three valet parking every month.