FAB Al Futtaim Credit Card allows the users to enjoy a life they aspire to live. It offers a wide collection of exclusive offers and privileges that include lifestyle benefits, travel benefits, protection, and rewards. With this Platinum credit card, the cardholders can experience easy and secure payments along with various rewards in return.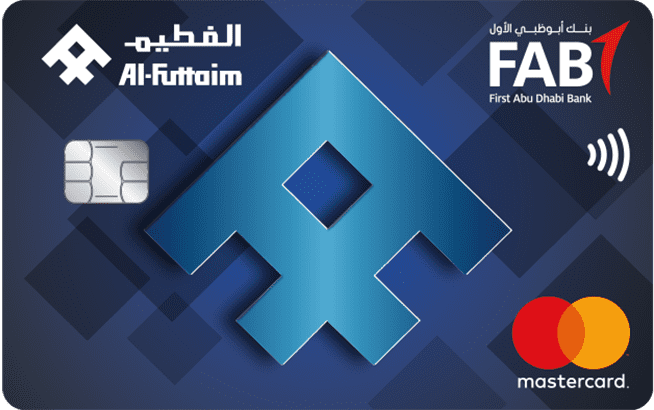 FAB Al-Futtaim Platinum Credit Card
Minimum Salary AED 8,000

Annual Fee Free for Life
Free for Life
Special Discounts
Retail Rate of Interest: 3.25% monthly (2.075% for 1st year)
Minimum Income Required: AED 8,000
Minimum Payment: AED 100 or 5% of the outstanding balance monthly (whichever is higher)
Feature & Benefit for FAB Al-Futtaim Platinum Credit Card
Listed below are some of the main features and benefits of this FAB credit card.
Credit Shield - In case due to any unfortunate event, the card members are unable to meet their credit card payments, the facility of credit shield ensures that their outstanding balances are paid off.
Airport Transfer - This credit card helps them in reaching the airport well in time with the facility up to 2 airport transfers within the city limits at AED 40 only.
Airport Lounge Access -The cardholders can also enjoy a comfortable time at the airport lounge while heading for a trip with the benefit of free access to airport lounges throughout the Middle East just by presenting this credit card.
Careem Rides - FAB Al Futtaim Credit Card benefits also include a discount of 20% on three rides with Careem each month simply by adding this FAB credit card in the Careem mobile app and using the promo code MASTERCARD when booking the ride. The new customers can additionally enjoy their first ride free by using the promo code MC1RIDE while booking their ride.
Purchase Protection - The cardholders can enjoy protection on the purchases they make globally with this FAB Platinum credit card.
Stolen and Lost Card - In case the credit card gets lost or stolen, the card members can call the hotline for blocking the card instantly and get a replacement card temporarily within a business day from placing the request.
Emergency Assistance - The cardholders can get access to a maximum of USD 2,000 or an equivalent amount in UAE dirhams in the case of an emergency with the 24-hour emergency cash facility of the bank that can be availed at 250,000 locations across the globe.
FAB Al Futtaim Platinum Credit Card Offers & Rewards
Listed below are some of the rewards and offers available on this FAB credit card.
Shopping Benefits - On shopping at famous global stores online through this FAB credit card, the cardholders can get a cashback of up to 10% throughout the year. They can visit and register on the official website of Shop Smart and save each time they shop from the brands online.
Cinema Offers - The cardholders get up to four movie tickets at AED 15 on the weekdays and AED 20 on the weekends every month with Oscar Cinema, Cine Royal, and Reel Cinemas.
Al-Futtaim Stars - They can exchange their Al Futtaim Stars for a range of exciting offers and rewards.
Earn up to five Al Futtaim Stars against each dirham spent while shopping at Al-Futtaim showrooms, schools, or stores, and 1 Star for each dirham spent on other transactions.
These Stars can be redeemed for The Stars can be redeemed for Emirates Skywards miles, Etihad Guest miles, or cash back that is credited to the card account. These stars can also be used at partner Al-Futtaim outlets at the point of sale to pay for the purchases made.
Getting exclusive benefits at Al-Futtaim brands
Al-Futtaim Stores and Showrooms - FAB Al Futtaim Platinum Credit Card offers include a wide range of exclusive schemes at Al Futtaim stores and showrooms.
MasterCard Offers - The card members can also enjoy a unique collection of experiences and offers that are specially created for MasterCard users. These offers involve entertainment, shopping, sports, hotels, air tickets, and attractions.
FAB Al Futtaim Platinum Credit Card Eligibility Requirements and Fee & Charges
Eligibility Requirements
The cardholder needs to earn a minimum salary of AED 8,000 per month to be eligible for this FAB credit card.
Fee & Charges on FAB Al-Futtaim Platinum Credit Card
The table below shows the fee and charges applicable to the users of this credit card.