The Emirates NBD Go4it Platinum credit card is a joint venture of Emirates NBD & RTA (Road and Transport Authority). This credit card is one of its kinds in the whole region that comes with a credit card and transit chip built into one card, offering the card members a twin benefit of RTA Nol Card & credit card and. RTA Nol Card is utilized to make payments on the RTA transit network. In addition to this, cardholders can enjoy a wide range of exclusive benefits and offers to meet their various lifestyle needs.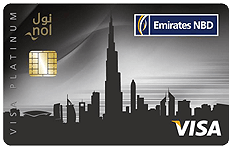 Emirates NBD Go4it Platinum Credit Card
Movie Discounts
Dining Discounts
Insurance
Features & Benefits of Emirates NBD Go4it Platinum Credit Card
Below mentioned are the key features & benefits of this Emirates NBD Credit Card
RTA Benefits
Cardholders can use this ENBD credit card as an RTA Nol Credit Card for making the fare payment on the Parking meters and RTA transit network as well as a normal credit card for making cash purchases & withdrawals. Being a member of this card, one can enjoy the following RTA benefits using this credit card:
The cardholder can make the fare payment at RTA parking meters.
The cardholder can make fare payments for Water Bus and RTA Bus.
The cardholder can get access to gold class & make the fare payment of gold class from NoI Tag ID.
The cardholder will be eligible for RTA monthly pass or product.
RTA NOL Card
The NoI Tag ID balance will gradually reduce with the continuous use on the RTA transit network or at parking meters. Considering this thing in mind, Emirates NBD Go4it Platinum Credit Card gives its cardholder several convenient options for a top-up in order to recharge their Nol Tag ID which is linked to their account. The card account and Nol Tag ID are linked securely for facilitating automatic and manual top-ups as authorized by the card member.
Complimentary Dubai Ferry Rides
Cardholders can avail complimentary rides on the Dubai Ferry in the Business class (gold ticket) for themselves along with an accompanying guest using this ENBD Credit Card.
Visa Benefits
Card members can enjoy a wide range of visa benefits and they are as follows:
Medical and Travel Assistance: Emirates NBD Go4it Platinum credit card members can travel the world knowing their elite status will keep them protected. Moreover, they can get the following services:

Legal referral
Medical advice on telephone
Delivery of essential equipments and medicines
Medical service provider referral
Interpreter referral
Medical evaluation & repatriation
Monitoring medical condition pre and post hospitalization
Dispatch of physician to a current location of the cardholder.

Worldwide Customer Assistance Services: This service is provided to Emirates NBD Go4it Platinum credit card members for giving them the personal support & top-class customer service during their travel thereby offering the following essential services when they require it the most:

Emergency replacement of a card
Emergency payment authorization
Reporting of a lost or stolen credit card
Emergency cash of USD 5000 (maximum)
Contactless Payments: Card members can use their mobile phones and smartwatches to make safe and fast contactless payments through this ENBD Credit Card.
Easy Installment Plan: This Emirates NBD Credit Card offers easy installment plans scheme wherein the cardholder can convert their high purchases made at the participating merchants into monthly installments at no interest rate for tenor of 6-12 months.
Salik Auto Top-up: This Emirates NBD credit card offers the cardholders a convenient option of automatic recharge of their Salik Account in case of a reduction in the balance through the Salik Auto Top-up facility. The credit limit on the credit card is utilized up to the extent of the top-up amount.
Payment of Utility Bill: Cardholders can pay their DEWA, Etisalat, Empost (Emirates Post) bills online using this card in a hassle-free manner.
Flexible Options for Payment: Cardholders can pay as minimum as 5% of the outstanding balance on their Emirates Credit Card every month using the flexible options for payment offered by the bank. They can even carry over their remaining outstanding balance to the following statement. However, card members can choose to make 5, 10, 25, 50 or 100% payment of the outstanding balance monthly.
No-interest Period: This ENBD Credit card offers up to 55 days no-interest period if the cardholders continue to pay their total outstanding balance by the due payment date.
Instant Cash: Card members can avail immediate access to a maximum of 50% of their credit limit in the form of cash. This instant cash can be availed at more than 810,000 million ATMs or at any of the bank branches across the world which displays the Mastercard or Visa logos.
SMS Alerts: This Emirates NBD credit card enables its card members to track all of their card transactions with the help of this advanced SMS alert feature. They get an SMS alert on each and every transaction made on the credit card on their phone. This advanced feature does not only help the card members to keep an eye on their every expenditure, withdrawal, and more but also helps them to identify any unauthorized use immediately.
Online Banking: This is one of the best features of this Emirates NBD credit card as it enables card members to monitor their card balances & transactions as well as make payments from the EBND Account. Cardholders can enjoy online access to their card account from anywhere in the world.
Customer Assistance: This Emirates Credit Card offers assistance to its cardholders round the clock so as to help them in solving their issues, if any.
DoubleSecure: Emirates NBD DoubleSecure is an advanced security feature that entitles the cardholders to shop at participating online merchants in an easy & safest manner.
Cardholders just need to enter a one-time authentication code when they make any transaction using this credit card. The authentication code will be sent on the registered mobile number as an SMS or the card member's registered email address. In this way, even if someone already knows the credit card number, they will not be able to complete the transaction without entering that authentication code.
Protect Plus Insurance: Protect plus insurance is offered for the Emirates NBD Go4it Platinum Credit Card members. With this, cardholders can enjoy the spending power of their card with the assurance that, in the event of an unforeseen situation, the outstanding balance of their credit card will be taken care of. Best of all, they can enjoy 2 months of free insurance cover after paying a nominal rate on the outstanding balance of the credit card. However, 'Protect Plus Insurance' covers the below-mentioned unforeseen events:

Natural death
Critical Illness
Hospital cash benefit
Job Loss cover
Permanent total disability

Extended Warranty: All the new products or goods that have been purchased using the Emirates NBD Go4it Platinum Credit Card may be eligible for the benefit of an extended warranty. An extended warranty benefit doubles the original manufacturer's warranty for a maximum of 1 year so that the card member can enjoy the extra protection.
Purchase Protection: The Emirates NBD Go4it Platinum Credit Card offers coverage for newly purchased items, stating that any newly purchased products or item that is lost, stolen, or damaged is eligible to be replaced or reimbursed.
Fraudulent Card Misuse Protection: This credit card is protected against all kinds of unauthorized or fraud transactions that can be made by unknown 3rd parties. This insurance benefit will give reimbursement of US$ 2500 (maximum) per occurrence with US$ 4000 annual aggregate limit.
Multi-Trip Travel Insurance: Emirates NBD Go4it Credit Card offers multi-trip travel insurance to its card members. Here are the coverage details:

Personal accident benefits capped at USD 500,000 (international).
Personal accident benefits capped at USD 50,000 (local).
Emergency medical expenditures capped at USD 150,000.
Repatriation & evacuation expenditures capped at USD 500,000.
Hospital daily cash $50/per day capped at USD 1500.
Trip cancellation or curtailment capped at USD 5000
Delayed departure USD 42 per hour capped at USD 1000.
Delayed baggage USD 42 per hour capped at USD 500.
Personal belongings loss capped at USD 150.
*Please note that it covers the primary cardholder, spouse, and 5 children (maximum), age limit of 80 for all people.
Emirates NBD Go4it Platinum Credit Card Rewards & Offers
Card members can enjoy the following offers & rewards:
Plus Points- Reward Program
Card members can earn rewards in the form of plus points on each spend and can instantly redeem them at their favourite stores.. They can even convert their Plus Points to Cashback or Frequent Flyer Miles.
Earn a maximum of five Plus Points on each AED 200 spent on weekends. Earn a maximum of four Plus Points on each AED 200 spent on RTA.
Earn a maximum of one Plus Point on each AED 200 spent on weekdays.
Movie Tickets
Card members can book 2 regular Standard 2D tickets or 2D VIP tickets at just a price of AED 47.25 online at the VOX cinemas website or through the VOX cinemas mobile app. Also, they will receive an upgrade to the next size on any popcorn and beverage purchase at cinema candy bar when they show their Emirates NBD Go4it credit card.
Bon Appetit
Cardholders can avail a maximum discount of 30% at 2000+ restaurants in the UAE. In order to avail these exclusive discounts and fantastic dining experience, they just need to use their Emirates NBD Go4it Platinum Credit Card at the partner restaurants of Bon Appetit.
Other Lifestyle Offers
Emirates NBD offers the GoodTimes & LiveWell facilities that allows the card members to avail a wide range of lifestyle & entertainment experiences, and enjoy several fitness activities.
Travel Discount
The cardholder can enjoy 3% off on airline tickets and a maximum of 7% off on booking holiday packages when the booking is done through the Travel desk at Emirates NBD.
Visa Offers
Being a member of the Emirates NBD Go4it Platinum credit card, one can avail the following visa offers:
Airport Dining Discount Program: Card members can get exclusive dining discount on over 200 restaurants worldwide. They just need to download "DragonPass Dine & Travel" mobile app and register this credit card to enjoy these exclusive discounted offers. Please note that the discount might differ from one merchant to another. However, the discounted offers will be display in the mobile app.
Fairmont Offers: Card members can avail a discount of 15% on booking two nights at the participating Fairmont hotels.
BOGO Movie Offers: Emirates NBD Go4it Platinum Credit Card members can avail one free movie ticket on booking one movie ticket through VOX cinemas online in the UAE and KSA. Please note that this BOGO movie offer is valid only for Sunday show times.
Agoda Offers: Card members can avail a 12% off on the Agoda hotels & properties which are listed as "Promotion Eligible".
The Entertainer: Cardholders can enjoy BOGO offers at participating merchants in Bahrain, Oman, UAE, Qatar, KSA, Kuwait, Jordan, and Lebanon. Also, they can enjoy more than 5000 discounts on excursions and attractions in key travel destinations.
Avis Car Rental: Following offers are available at AVIS for the Emirates NBD Go4it Platinum Credit Card members:

A discount of 35% (maximum) on standard rates.
A discount of 30% (maximum) on international leisure rates.

Bicester Village Shopping Collection: The Bicester Village Shopping Collection is a collection of luxury brand outlet villages offering the previous seasons' collections of the leading lifestyle brands with a maximum discount of 60% the recommended retail price. Card members can enjoy access to:

15% off on the ticket price for the shopping express luxury coach service, chauffeur drive facility & shopping packages.
Enjoy a VIP voucher for with extra discount of 10% on purchases at any of the Bicester Village shopping collection locations in the Europe.
Eligibility Criteria for Emirates NBD Go4it Platinum Credit Card
The following eligibility criteria should be met by the applicant seeking an Emirates NBD Go4it Platinum Credit Card:
The minimum age of 21 years is required to be eligible for this credit card.
Both UAE Nationals & Expats can apply for this credit card.
The applicant must have a minimum monthly income of AED 12,000.
The applicant must have a good credit history to qualify for this ENBD credit card.
Documents Required for Emirates NBD Go4it Platinum Credit Card
The documents are required to apply for this Emirates NBD Credit Card are-
Emirates identity card (original and a copy).
Security Cheque
Passport (copy) for Identification purpose.
Recent Salary Certificate (for salaried employees)
Trade License (only for non-individuals)
Bank statement of the recent 3 months (if bank statements aren't original, a mini statement printed from an ATM has to be submitted)
Fees & Charges on Emirates NBD Go4it Platinum Credit Card
Mentioned below are the Emirates NBD Credit Card Fees & charges:
(Updated as on September 10, 2020)
Others Emirates NBD Credit Cards -
FAQ's on Emirates NBD Go4it Platinum Credit Card