Deem Finance Bank offers a host of credit cards with amazing benefits and privileges. Amongst these cards, Deem Mastercard World Cash Up Credit Card is a luxury card for those who like to indulge in various leisure activities.
With a wide range of travel offers, this Deem Finance Credit Card is also suitable for those who travel frequently. The attractive deals and discounts offered make it one of the popular credit cards in the UAE.
Benefits and Features of Deem Mastercard World Cash Up Credit Card
Listed below are the most eminent features & benefits available on this Deem World credit card.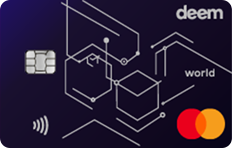 Valet Parking
Deem bank offers 4 complimentary valet parking facilities monthly at shopping malls and dining hotspots across UAE.
Easy Payment Plans
If the card member has spent 500 dirhams and more using this Deem Credit Card, they can enjoy the facility of making the repayment in the form of easy installments within a tenure that can range between three to 24 months at economical rates of interest.
Supplementary Card
The cardholders can extend the Deem privileges and benefits available on their card to their family through the Deem supplementary credit cards.
Cleartrip Offers
The bank offers a maximum discount of 10 percent on roundtrips, hotel bookings, and international flight tickets on Cleartrip on this travel credit card.
Airport Lounge
The cardholder can avail access to more than 1,100 airport lounges across the world.
Other Travel Offers
The card members get DNATA travel vouchers of 1,000 dirhams (maximum) with this card.
They also get complimentary travel medical and travel inconvenience insurance.
Hotel Deals
Free nights at more than 200 partner Marriot Bonvoy hotels throughout the Middle East & Africa.
Benefits such as free room upgrades, breakfast, and more when booking on Lushescapes with the Virtuoso offers at 1,200 hotels globally.
A maximum discount of 10 percent at onefinestayluxury services apartments in Paris, London, Florence, Milan, Rome, Los Angeles, New York, Sydney, and San Francisco.
Careem Rides
The cardholder can enjoy a discount of up to 20 percent on three Careem rides in a month.
Car Rentals
They can also enjoy easy conveyance with a maximum discount of 25 percent on Avis car rentals across the world.
Golf Benefits
The bank offers a free 18-hole green fee when bought from Tower Links Golf Club using this Deem Finance Credit Card. Moreover, it also offers a free session of mini gold when it is bought from Tee and Putt Mini Golf.
Travel Insurance
Cardholders get to enjoy complimentary travel inconvenience and travel medical insurance under the umbrella of offers provided with the Deem MasterCard World Cash Up credit card.
Rewards and Offers of Deem Mastercard World Cash Up Card
Listed below are the best rewards and offers available on this Deem World credit card.
Cash Up Rewards
The cardholders can earn cash up on almost all the transactions they make through this Deem Finance Credit Card. The cashback can be earned in the form of credit on their card statements using these cash up points. They can make payments for their purchases at different establishments in the future using this cashback. Following is the list of maximum cashback they can earn in different categories.
Up to ten percent cash up booking flight tickets via travel agencies, airlines, or websites across the world.
Up to five percent cash up on booking hotels via travel agencies, hotel properties, or websites across the world.
Up to five percent cash up on kid's entertainment zones, tourist attractions, concerts, operas, and plays.
One percent cash up on all the other retail transactions made globally.
Deem Offers App
The card member has the option to enjoy more than 490 attractive discounts and deals on spas, wellness, beauty, entertainment, tourist attractions, amusement parks, and casual dining through the Deem Offers mobile app.
Mastercard BOGO App
Deem Finance offers more than 900 offers at around 90 destinations with above 600 merchants through the Mastercard Buy one Get one mobile app.
Movie Offers
The cardholders can enjoy a discount of up to 25 percent on their total bill at the Reel Dine-in cinema.
Hertz Gold Plus Membership
Cardholders get complimentary Hertz gold plus rewards with your Deem MasterCard World Cash up credit card.
Eligibility Criteria and Charges for Deem Mastercard World Cash Up Card
Mentioned below is the Deem Finance Credit Card eligibility requirement.
Minimum Salary Requirement: 25,000 dirhams
Fee and Charges
The following table shows the list of fees and charges applicable to this card.
(Updated on November 28, 2019)
*The fees mentioned in the table are inclusive of VAT.
FAQs on Deem Mastercard World Cash Up Card
Q1: What do you mean by Deem World Cash up?
Ans: The Deem Cash Up is a unique cashback program that provides accelerated cash up points on all the transactions related to airline tickets, travel, entertainment, and hotel bookings.
Q2: Do I have to register separately for receiving cash up points?
Ans: No, you get enrolled for this program automatically and start earning the cash up points on your retail purchases when you go beyond the minimum spending threshold.
Q3: Can supplementary cardholders also earn the cash up points?
Ans: The transactions made on the virtual and supplementary cards will also be eligible to earn cash up. The cash up points will be credited to the account of the primary cardholder.
Q4: How can I redeem my Cash Up points?
Ans: For redeeming the cash up points, you can put forward the redemption request via online banking or the Deem mobile app.
Q5: Do I need to earn a minimum amount of points for redeeming my Cash Up rewards?
Ans: Yes, you need to earn a minimum of 100 Cash Up points to be able to redeem the points.