Deem Finance is one of the largest private financial service providers in the UAE, with an asset capital of over AED 1 billion. Understanding the UAE market, Deem has innovated its financial products and services according to the customers' needs. Amongst major products, it offers credit & loan services and corporate deposit schemes. With numerous Cash Up and Miles Up credit cards, Deem Finance offers rewards and cashback points on each and every transaction.
Among the credit cards, Deem Titanium Cash Up credit card is popular for its loyalty program, features and privileges. The Cash Up credit offers a host of benefits ranging from travel, stay, lifestyle, entertainment, shopping and much more.
Additionally, the institution offers a convenient application process and lenient criteria, making it affordable and easy to use. The following article sheds light on various features, benefits, and privileges of Deem Titanium Cash Up Credit Card in the UAE.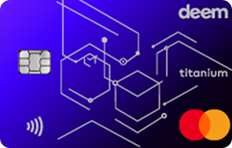 Deem Titanium Cash Up Credit Card
Minimum Salary AED 6,500

Annual Fee AED 200
Free for 1st year
Cashback
Airport Lounge Access
Travel Discounts
Features of Deem MasterCard Titanium Cash Up Credit Card
Apart from various benefits, the card offers a host of features for easy financial management and shopping experience. Additionally, you get a range of travel and entertainment privileges. The following is the rundown of various features of Deem Titanium Cash Up credit card.
Lounge Access - The cardholder can travel with convenience with the benefit of free access to more than ten airport lounges in the Levant and the Middle East.
Double Secure - The Double Secure insurance benefit by Deem covers the outstanding amount of the credit card. Moreover, it also provides the nominee of the cardholder with an equivalent amount.
Car Rentals - The cardholder can enjoy a discount of 15 percent on car rentals with Avis throughout the globe.
Uber Rides - Deem Bank offers a discount of up to 20 percent on three Uber rides every month.
Priceless Buy 1 Get 1 Offer - With the Deem Titanium Cash Up credit card, you get access to Buy 1 Get 1 offer on various shopping, travel, hotel and dining expenses.
Easy Payment Plan - On spending 500 Dirhams or more using this Deem card, the cardholders can make repayments in simple installments at an economical rate of interest. The repayment tenure ranges from 3 to 24 months.
Free Supplementary Cards - Deem Finance allows cardholders to extend the privileges and benefits to their family through supplementary credit cards. The institution does not charge a fee for supplementary credit cards.
Balance Transfer - Using the balance transfer facility with Deem credit cards, you can conveniently transfer outstanding card balances from another credit card and enjoy a lower interest rate and a longer repayment period.
Benefits of Deem Titanium Cash Up Credit Card
The Titanium Cash Up card is specifically designed to offer cashback rewards to cardholders on every expense. The card offers several other benefits such as -
With Deem Cash Up credit card, you can earn up to 3% cashback on supermarket and utility bill payments.
Additionally, you can receive up to 3% cashback on fuel purchases across the UAE.
Deem Cash Up credit card offers up to 0.50% cashback on each and every retail purchase made anywhere around the world.
With the Cash Up credit card, you get free access to 10 premium airport lounges all around the Middle East and the Levant region.
You can enjoy attractive Buy 1 GET 1 deals on Deem Offers app. All you need to do is simply download the application and register using your Deem Cash Up credit card.
As a Deem credit cardholder, you can apply and avail of add on credit cards for your family without extra charges.
Deem Finance also offers a virtual credit card for added security and convenience. Using the virtual credit card, you can shop online, pay bills and transfer funds with ease.
For the first year, the financial institution does not charge an annual fee, and if you meet the spending criteria, you can save on annual charges in the future.
Deem MasterCard Titanium Cash Up Credit Card Offers (Updated on Feb 2022)
First year free
Earn 3% Cash Up at supermarkets
Earn 3% Cash Up on utilities
Earn 3% Cash Up on fuel
0.5% on all other retail spends
Deem MasterCard Titanium Cash Up Credit Card Rewards
Listed below are the top rewards of this Titanium credit card.
Cash Up
On this Deem credit card, the cardholders can earn cash up on the transactions they make. They can earn cashback in the form of a credit on their statements with the cash up points. The payment for their next purchases can be made at different establishments through this cashback. Here is the amount of cashback they can earn in different categories.
A maximum of three percent at grocery stores and supermarkets
A maximum of three percent on government services expenditure and payment of utility bills
A maximum of three percent on fuel at the gas stations
A maximum of 0.5 percent on other retail transactions
Gift Vouchers
Using the cash up points, the cardholder can purchase gift vouchers from Ferrari World, Mall of Emirates, Amazon.ae, Ski Dubai, Nine West, Toy Store and more.
Offers App
The cardmember can enjoy more than 220 discounts and deals on entertainment experiences, tourist attractions, amusement parks and casual dining with the Offers App on their smartphones. Both primary as well as supplementary cardholders can avail of these deals.
BOGO Offers
Using the MasterCard Buy One Get One App, the cardmember can enjoy more than 900 BOGO offers at over 90 destinations and 600+ merchants.
Eligibility Criteria for Deem Titanium Cash Up Credit Card
Before applying for DEEM Titanium Cash Up credit card, individuals need to fulfil a few eligibility criteria. The requirements relate to the financial situation, employment status, age and nationality. Following are the basic eligibility criteria for Deem Titanium Cash Up credit card.
Minimum Age - An applicant must be at least 21 years of age or above.
Salary Requirement - An individual with a monthly income of AED 5,000 or above can apply for the Deem Cash Up credit card.
Nationality - UAE nationals and residents can apply for the Cash Up credit card
Documents Required to Apply for Deem Titanium Cash Up Credit Card in the UAE
Once you verify your eligibility, you can collect the following documents and submit them during the application process.
A passport ID in original and its copy for verification and record
A valid Emirates ID for UAE nationals
Last 3 to 6 months bank account statements
A salary slip not older than a month or a salary certificate issued by the current employer
A recent utility bill or rent/lease agreement for the proof of address
Note: The bank may ask for additional documents at its sole discretion.
How to apply for a Deem Titanium Cash Up credit card?
Individuals willing to acquire the Deem Cash Up credit card can apply through online and offline channels as per their convenience. Following are the ways to apply for Deem credit cards.
Online Mode - For online application, you need to visit Deem's official website and select this Deem Credit Card in the product section. After that, you need to enter your personal details. A Deem representative would contact you for the further application process.
Offline Mode - To apply offline, you can visit a local Deem Finance branch with all your supporting documents and fill the credit card application form. Subsequently, attach your documents and submit them to the representative. After successful application and approval, your credit card will be dispatched to your address.
Fee & Charges on Deem Titanium Cash Up Credit Card
The table below contains the different fees and charges on this card.
| Fees and Charges | Details (in AED)* |
| --- | --- |
| Annual Fees | AED 200 (1st year free)** |
| Retail Interest Rate | 3.45% |
| Over-limit Charges | AED 341.25 |
| Late Payment Charges | AED 241.5 |
| International Transaction Charges | 3.139 percent |
(Updated in October, 2021)
*All the charges are inclusive of VAT.
**If the yearly spend on this card is 12,000 dirhams or more, the cardholder do not need to pay the annual fee
Other Deem Credit Cards -
FAQs Deem Mastercard Titanium Cash Up Credit Card