The Dubai Expo 2020 has finally kicked off after being initially derailed due to the Covid pandemic situation. The Expo shall go on for a period of around 6 months, and it is expected to see participation by over 190 nations. Estimates by tourism watchers place the expected number of footfalls at 25 million visits. Roughly 60 shows are scheduled for each day throughout the course. As the theme of the event goes, "Connecting Minds, Creating the Future", the event is aimed at fostering global connections, while focusing upon the sub themes of mobility, sustainability, and opportunity. Each country participating in the expo shall come up with its own pavilion, thus showcasing its cultural specialties to the world. The pavilions shall be highlighted by the latest technological developments by the respective countries, architectural marvels, and other cultural displays. As per reports the Expo has gone off to a flying start and has witnessed over 411,000 ticketed visits in just the first 10 days.
Top Credit Card for Expo 2020 Dubai
MasterCard has entered into a partnership with Expo 2020 for providing payment solutions on all platforms to all the customers during the Expo. There are two cards which are being exclusively offered at the time of the Expo, in order to facilitate the experiences of the visitors, both domestic and international. In order to make the cards trustworthy for international clients, the cards will be protected with MasterCard's seamless technology. In keeping in view with the post-Covid norms, the cards will be endowed with contactless features in order to facilitate touch free transactions. Cardholders shall be enabled to use the card for both digital transactions as well as non-contact in-store payments. If the customers are not comfortable with the same, they may put in a demand for a physical card. The latter can be enabled through linking the card to their preferred payment wallet (such as Apple Pay, Google Pay, etc). Both the cards are designed to enhance the user's experience and stay in the UAE during the time of the expo. The cards are of a limited edition.
Emirates Islamic Expo MasterCard Credit Card
Emirates Islamic, as a part of the Emirates NBD group, has decided to offer a credit card exclusively for the Expo 2020. This credit card shall be free for life and is available for purchase only for a limited time. It is not available for purchase to international visitors, and its eligibility has been kept restricted to UAE domestic clients only.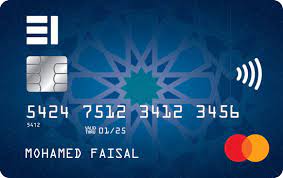 Emirates Islamic Expo MasterCard Credit Card
Free for Life
Cashback
Valet Parking
Welcome Bonus
Expo Ticket Discounts
Features & Benefits for Emirates Islamic Expo MasterCard Credit Card
On every Dh1 spent, subject to the terms and conditions, the clients may earn three Islamic Smart Miles. The Islamic Smart Miles scheme has collaborations with multiple loyalty programs, and can also be redeemed at hotels, airports, and other luxury purchases.
The client may get the benefit of U by Emaar Gold status. This grants one entitlement to the flagship loyalty program of the Emaar Hospitality group.
A discount of up to 15% can be availed at a visit to any of the various Emaar attractions spread across the UAE. Some of the Emaar attractions are mentioned as follows - Dig It - Stay and Dig, KidZania Abu Dhabi, KidZania Dubai, EKart, IceRink.
A non-chargeable valet service can be requested at the locale of the Dubai 2020 Expo, once in a calendar month.
Additional offers in terms of joining bonus, or to make the card popular are also present. For instance, customers can earn up to 200 Dhs in statement credit and up to 5500 points.
Exclusive offers to dining experiences where the cardholder can meet the who's who at the Expo.
To promote tourism in the Middle East and other parts of Africa where Emirates Islamic has a presence, a discount of up to 20% is being provided on Uber rides. The client may select the car type that suits their traveling style. Various travel options across the MENA are available, and 20% on the first three rides every month.
The balance in the credit card may be incorporated into digital wallets for contactless payment at the outlets at the expo.
Access to over 1000 airport lounges across the globe. The client may inform the airports beforehand that they wish to access LoungeKey.
The clients may take a relaxing break from their hectic schedule and enjoy two rounds of free complimentary golf at Arabian Ranches Golf Club or the Trump International Golf Club or Yas Links golf club.
Minimum eligibility for Expo 2020 Credit Card : AED 5000
Fees & charges of Emirates Islamic Expo MasterCard Credit Card
| Credit Card Features | Fees & Charges |
| --- | --- |
| Monthly profit rate | 3.49% |
| Annual membership fees | AED 0 |
Documents required for Expo 2020 Credit Card for Expo 2020 Dubai
Copy of valid Emirates ID of the UAE national.
Certificate attesting to the salary.
Copy of passport.
Bank statement of the past 3 months.
Emirates NBD Expo MasterCard Prepaid Card
Features & Benefits for Emirates NBD Expo MasterCard Prepaid Car Prepaid card
The Emirates NBD is being offered through a specific mobile platform that has been designed specifically for the occasion. The Joyn App is being used for this purpose. The app ensures that the whole process is fully digital and that no paperwork is involved in the process. The card shall remain valid till April 2023.
The card can be used by both domestic as well as international users. The facilities from the card can be used for availing benefits from Emirates NBD's Bon Appetit, LivWell, and Good Times Programme. Special offers and discounted rates at over 2000 outlets across the UAE. The card is reloadable, and will enable international visitors to spend in local dirhams. Apart from that, routine benefits shall also be available, including instant card top-up, exclusive offers on leisure and entertainment facilities
Fees & Charges of this Prepaid Card for Dubai Expo2020
Prepaid Card Facility
Fees & Charges

Fee for issue of card physically

AED 15

Card Replacement Fee

AED 25

Minimum reload amount

AED 150

Loading fee

Not chargeable up to AED 300. 2% of load amount afterwards

Daily Purchase Limit

AED 10000 (domestic users)

AED 3500 (Internationals)

Maximum single loading limit

AED 40000 (domestic users)

AED 3500 (Internationals)
Document required to get Prepaid Card for Expo 2020
Valid copy of Emirates ID for UAE visitors
Valid copy of Passport for international guests
Emirates Islamic Expo MasterCard Prepaid Card
Features & Benefits of this Prepaid Card for Expo 2020 Dubai
A welcome bonus of AED 200 shall be granted as part of a joining bonus. A 50% cashback will be offered on the first Expo 2020 Dubai ticket that is purchased. Maximum cashback that a cardholder can earn for themselves is AED 350.
A cashback of 10% on all fuel spent across the UAE.
Cardholders can earn up to three Emirates Islamic Smart Miles for every single Dirham that they spend. The same can be redeemed in exchange for hospitality features, at hotel chains, and for flights. The client can also earn U by Emaar Gold Tier Status, which is a loyalty program that allows clients to access exclusive discounts, redemptions, and other benefits. It will also entitle them to access over 1000 airport lounges across the world. As a benefit celebrating this special launch, customers can earn up to AED 200 statement credit, as well as 5500 Upoints when they sign up for the card.
Other benefits include free valet and parking service that can be attained at the site of the Expo, golf sessions as well as meal offers in order to promote community bonding.
Eligibility Criteria for this Prepaid Card for Expo2020 Dubai
Minimum salary of AED 5000 per month.
Fees & charges for this Prepaid Card for Expo2020 Dubai
| Prepaid Card Facility | Fees & Charges |
| --- | --- |
| Monthly Profit Rate | 3.49% |
| Annual Membership Fees | AED 0 |
Documents required for Emirates Islamic Expo MasterCard Prepaid Card
In order to qualify for this form, you need to fill the online application form in addition to the following documents:
Passport Copy
Emirates ID
Salary Certificate
Bank statement of the past 3 months