Established in 1812 in the city of New York, Citibank is one of the top international banks in the UAE with a humungous retail customer base.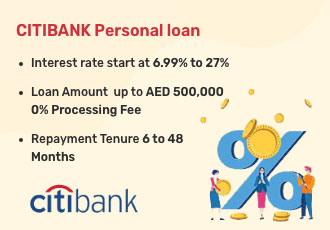 The bank established its roots in 1971 in the UAE and has been an important part of the UAE banking sector ever since. When it comes to personal finance in the UAE, Citibank has decades' worth of experience. One of the most availed personal financing products from Citibank is personal loans. The easy application process, competitive interest rates and flexible repayment period are just some of the many features that make Citibank a top-liner in personal financing segment..
Citibank Personal Loan Interest Rates
(The rates are subject to changes with time.)
Features and Benefits of the Citibank Personal Loan
Features
Availability
Early Settlement
1% of remaining balance or AED 10,000, whichever is less – The Fee is a one time charge added to the payoff balance
Salary Transfer
Not Mandatory(Mandatory for salary transfer loans)
Reducing Interest Rate
Salary Transfer Loan Interest Rate from 6.99% to 8.99%
Non-Salary Transfer Laon Interest Rate from 14% to 27 %
Tenor
From 6 Months to 48 months
Quicks Approvals
Yes
Phone Banking
Yes
Noon Vouchers
AED 1,000 noon e-voucher
The Citibank Personal Loan Offers Loan borrowers the following features & benefits-
Easy Application
You can easily apply for Citibank personal loan either via online or offline platforms as per your convenience.
Loan Amount
You can get a loan amount going up to 8 times your salary with Citibank. A maximum of AED 250,000 can be availed of with Citibank personal loans as per your application type and processing.
Zero Processing Fee
Citibank Personal Loan of up to AED 500,000 can be availed with 0% processing fee.
Quick Approval
Showcasing a quick and hands-on processing time, Citibank offers in-principal decisions within 10 minutes. From application to documentation and approvals, everything can be covered in mere 24 hours.
Competitive Interest Rates
Interest Rates for Citibank personal loans start from a nominal 6.99% making it one of the best choices for personal financing in the UAE.
Additional Value-Added Benefits
Noon vouchers worth AED 1,000 are offered as a welcome gift to Citibank personal loan customers.
Key Features of Citibank Personal Loans without Salary Transfer

Welcome Offer

Noon vouchers worth up to AED 1,000

Processing Fee

0% (for loan amount up to AED 175,000)

Reducing Interest Rate

14% to 27%

Principal Decision

In-principal decision within 10 minutes

Tenure

6 to 48 months

Phone Banking

Yes
Key Features of Citibank Personal Loans with Salary Transfer

Processing Fee

0% (for loan amount up to AED 500,000)

Reducing Interest Rate

6.99% to 8.99%

Principal Decision

In-principal decision within 10 minutes

Tenure

6 to 48 months

Phone Banking

Yes
Citibank Personal Loan Eligibility and Required Documents
Given below is the complete eligibility criteria for availing of Citibank personal loans:
Parameters

Qualifying Criteria

Minimum Age

21 years

Residence/Citizenship

UAE resident or citizen

Employment Duration

Must be employed for at least 6 months

Company of Employment

Employer company must be from the approved list of companies of Citibank

Minimum Salary

AED 8,000

Salary Transfer

Available as both salary transfer and non-salary transfer loans

Documents Required

· Citibank personal loan application form

· Employment and income proof – salary slips and bank statements for last 3 months

· Identity proof – emirates id and passport and resident visa for ex-pats
Citi Bank Easy Monthly Payment Calculator