The ADIB Visa Credit Card provides a variety of facilities including cashback, lounge access, roadside assistance and much more. The cardholders can also enjoy the benefit of a free grace period, cash withdrawal, and supplementary credit cards.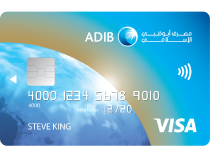 Benefits and Features of the ADIB Visa Cashback Card
Here is a list of the major benefits and features offered by this Visa ADIB Credit Card:
Free Roadside Assistance Facility
The card members can enjoy the facility of roadside assistance with no cost or charges. The package is inclusive of the following:
Post-accident, the cardholders can get a vehicle upon rent (for 24 hours).
Complimentary Benefit for a Flat Tire
Complimentary Transport Facility for the registration of car (in the same city), one time in one year.
Free Lockout Service
Inter-Emirate Free Towing Facility up to 3 times in 1 year
Free Unlimited Towing Facility Within the City Limit
Complimentary Service for Fuel Delivery
Free Jump Start Service
Supplementary Cards
Members of this card can get up to 4 free supplementary cards through this ADIB Visa Platinum Card. They'll have to bear an annual membership fee of AED 500 from the 5th supplementary card.
Cash Withdrawal
Cardholders have the option to make cash withdrawals of up to 100% of their finance limit through this card.
Grace Period on the Card
This Cashback ADIB Visa Credit Card provides the cardholders with a free grace period for up to 55 days to repay the remaining balance.
Airport Lounge
The cardholder has access to various premium airport lounges through the Veloce lounge.
Balance Transfer
The cardholder can consolidate all outstanding dues in his or her ADIB card by using the balance transfer feature for which the cardholder will have to pay a balance transfer fee.
Easy Payment Plans
Users can convert their large purchases made on this ADIB card that are worth AED 1,000 or more into small affordable monthly payments for a fixed tenure at partner retailers. The easy payment plan is an innovative facility offered by ADIB that allows customers to make hefty payments at once which are later broken into smaller fragments which makes it easier for customers to repay the outstanding amount.
Easy Cash
In case of immediate needs of funds, the cardholder can access the easy cash feature offered by ADIB. The easy cash facility is similar to insurance coverage that provides a blanket of financial protection to the loved ones and family members of the cardholder during unforeseen events.
Contactless Payment
The cardholder can enjoy fast, secure and simple payments with the NFC enabled ADIB cards.
Payment Options
The bank offers the following options for making payments.
Branches of ADIB: Card members can pay their ADIB Visa card in the UAE at more than 89 branches of ADIB located within the seven Emirates.
Cheque & Cash Deposit Machines: ADIB CCDM can be used throughout the day in order to settle card payments.
Online Banking: The payments for ADIB Credit Card may be done through the e-ADIB Internet Banking's sections for card payment. The card member can use this option to see the card details that include the transaction history between particular dates.
Phone banking: The bank offers 24/7 phone banking facilities for cardmembers for managing their accounts and making card payments.
Exchange Houses: The card bills of cardholders may be settled at exchange houses within the UAE.
USSD Message: The payments can also be made simply by dialing the code *161#.
Rewards and Offers ADIB Visa Cashback Card
Cardholders can enjoy a flat cashback of 1%, anytime & anywhere on both international and domestic spending through this ADIB Credit Card.
Members of this ADIB Visa Card can enjoy dining discounts of up to 25% at participating restaurants across UAE.
Documents Required for ADIB Visa Cashback Card
Here is a list of the documents required in order to apply for this ADIB Credit Card:
Copy and original Emirates ID
Copy and original passport
Previous 3 months' bank account statement
Salary certificate from the present employer (not more than a month old)
Fee & Charges Applicable on ADIB Visa Cashback Card
(Updated as of February 2020)
FAQs on ADIB Visa Cashback Card
Q1: Can I use this ADIB credit card outside the UAE?
Ans: Yes, this credit card can be used outside the UAE by paying a fee of 1.8% of the amount of transaction.
Q2: Do I have to pay any fees on withdrawing cash through ATMs?
Ans: Yes, you have to pay a cash withdrawal charge of 3% of the amount withdrawn or AED 99, whichever is more.
Q3: Can I make non-AED transactions on this credit card?
Ans: Yes, you can make non-AED transactions using this Visa credit card; however, you will have to pay a fee of 3.1% of the amount of transaction.
Q4: Do I have the option to increase the credit limit on my card?
Ans: Yes, you can get your credit limit increased temporarily by charging a fee of AED 50 on it.
Q5: Do I have to pay any charges for the facility of roadside assistance on this card?
Ans: No, the roadside assistance facility available on this credit card is a complimentary benefit. The facility includes various services such as:
Car on rent for twenty-four hours
Complimentary transport service for registration of the vehicle
Complimentary fuel delivery facility
Complimentary lockout facility
Complimentary service for flat tire
Complimentary jump-start facility
Inter-emirate towing
Complimentary unlimited towing within city limits