This ADIB Credit Card is loaded with a variety of benefits including shopping vouchers, complimentary airline tickets, a discount of 25 percent (maximum) on selected dining outlets in the UAE and many more. The cardholders can enjoy rewards on various domestic & international spending. It comes with an advanced PIN & Chip technology for making purchases and cash withdrawals securely.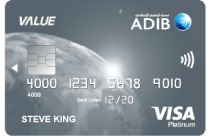 Benefits and Features of ADIB Value Card
Here is a list of the major features and benefits offered by this ADIB Credit Card:
Cash Withdrawal
Cardholders have the option to make cash withdrawals up to 100% of their finance limit through this card.
Secure Transactions
With the Chip and PIN technology on this ADIB Credit Card, the cardholder can safely make purchases and cash withdrawals.
Payment of Utility Bills
The card member can make the following utility bill payments using phone banking or online banking:
Du/Etisalat Bills (Mobile, Landline, Internet, and TV)
Electricity and Water Bills (SEWA, DEWA, ADWEA)
Account Management
ADIB offers round the clock phone banking option to the card member for a secure and fast way to access their accounts.
The account statements are sent online (e-statement) via email every month.
The cardholder can view and transaction on the ADIB Value Card by visiting the official website of the bank through the online banking facility.
The information and transaction alerts can be received through SMS.
Payment Options
The bank offers the following options for making payments.
Branches of ADIB: The card members can pay their ADIB credit card at more than 89 ADIB branches located within the seven Emirates in the UAE.
Cheque & Cash Deposit Machines- ADIB CCDM can be used throughout the day in order to settle card payments.
Online Banking: The payments for ADIB Credit Card can be done through the e-ADIB Internet Banking's card payment sections. The cardholders can use this option to see their card details that include the transaction history between particular dates.
Phone banking: The bank offers 24/7 phone banking services to the card members for managing the accounts and making card payments.
Exchange Houses- The card bills of the cardholders can be settled at any exchange house that is located in the UAE.
USSD Message: The payments can also be made simply by dialing *161#.
Card Protection
The ADIB Value Card offers protection including extended warranty, purchase protection, and Islamic Covered Card Takaful Scheme Protection.
Cash on Call
The cash on call facility offered on the ADIB Value Card helps its cardholders get access to cash equal to the available limit with just a phone call. It helps the cardholder in saving on extra costs. In addition to this, it provides flexible repayments along with the variable options for tenure.
Balance Transfer
The cardholder can use the balance transfer facility with just a phone call. The cardholder will have to pay a balance transfer fee for availing the facility.
Easy Payment Plan
The cardholder can make large purchases of AED 1000 and above than that at participating merchants and then convert it into equated monthly installments at 0% profit rate. The easy payment plan is an innovative facility offered by ADIB that allows customers to make hefty payments at once which are later broken into smaller fragments which makes it easier for customers to repay the outstanding amount.
Rewards & Offers Available on ADIB Value Card
Following offers and rewards can be availed by the cardholder of the ADIB Value Card:
ADIB Rewards Program
Members of this credit card can get rewarded for their domestic and foreign spend as they are given membership to the ADIB Rewards Program. The cardholder can earn one reward point for AED 1spent on the card locally and two reward points on each AED 1 spent internationally.
Table for Points Redemption
| | |
| --- | --- |
| ADIB Reward Points | Value in AED |
| For 10,000 points | 50 |
| For 100,000 points | 1,000 |
Redemption of ADIB Rewards:
Flights: Card members can redeem their ADIB Reward Points on flight tickets for any destination, any airline at any time.
Shopping Mall Vouchers: Cardholders can redeem their ADIB Reward Points for shopping mall vouchers that can be used at the following shopping malls in Sharjah, Dubai, and Abu Dhabi:
Abu Dhabi Mall
Sharjah Mega Mall
Sahara Centre (Sharjah)
Dining Offers: Card members can avail a maximum discount of 25% on a few selected dining outlets in the UAE.
Eligibility Criteria & Documents Required for the ADIB Value Credit Card
Eligibility Criteria
In order to be eligible for the ADIB Value Card, the minimum monthly salary requirement is AED 5000.
Documents Required
Here is a list of the documents required in order to apply for this ADIB Credit Card:
The original valid Passport of the applicant along with a valid copy of the same.
The original valid Emirates ID of the applicant and a valid copy of the ID.
Bank account statements of the last three months.
A salary certificate from the current employer which should not be more than 30 days old.
Fee & Charges Applicable on ADIB Value Credit Card
Following are the fees & charges associated with the ADIB Value card:
| Fees | Amount |
| --- | --- |
| Annual Membership Fees | Free for Life |
| Annual Membership Fees on fifth Supplementary Cards | AED 250 |
| Profit Rate/ month (with Salary Transfer) | 2.99 % |
| Profit Rate/ month (without Salary Transfer) | 3.09 % |
| Late Payment Charges | AED 100 |
| Cash Advance limit | 100 % |
| Charges on Cash Withdrawal (ATM) | 3 % (99 minimum) |
| Charges on Card Replacement | AED 75 |
| Excess Transfer of Funds from Card to Account on Cash Cover | AED 100 |
| Monthly Payment | 5 % (100 minimum) |
| Grace Period (Monthly Payment) | Maximum 55 days |
| Commitment of Charity Donation on Late Payments | AED 100 |
| Charges on Temporary Limit Increase | AED 50 |
| Service Fee on Non-AED Transactions | 3.1 % |
| Service Fee on International AED Transaction | 1.8 % |
| Copy of Sales Receipt Fee | AED 25 |
| Copy of Hotel Receipt/Travel Fares Fee | AED 25 |
| Additional Statement Fee (copy) | AED 45 |
| Certificate for Liability/No Liability | AED 50 |
| Charges Returned Cheque | AED 100 |
| Contribution Amount/ month (Optional) | 0.9345 fils on each 100 used cover amount |
(The prices and interest rates are subject to change as per the bank's requirement.)
Frequently Asked Questions on ADIB Value Credit Card
Q1: Is there any specific purpose for this credit card?
Ans: This ADIB Credit Card offers you the value as well as benefits for international and local expenses.
Q2: What all services are included in the payment of utility bills?
Ans: The payment of utility bills includes electricity and water bills and Du/Etisalat bills.
Q3: Do international and local transactions offer you the same rewards?
Ans: No, both international and local transactions made using this card offer different rewards. You can earn one reward point for AED 1 spent locally and two reward points on each AED 1 spent internationally.
Q4: Am I allowed to use my credit card internationally?
Ans: Yes, you have the option of using your credit card globally with those restrictions as the ones imposed in your home country. You will have to bear foreign transaction charges every time you make use of this credit card in some other country.
Q5: Do the national users have the benefit of the credit shield?
Ans: The facility of credit shield is available for all the users of this credit card- both expats and UAE Nationals.