The ADIB Spice Card aims to 'spice' up the life of the cardholder with the numerous benefits and perks that are offered on this card. From dining discounts to jewelry discounts, cashback to airport lounges, name it and have the 'spice' of it.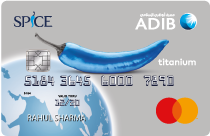 Features & Benefits of the ADIB Spice Card
Below is an insight into the numerous benefits and features of the ADIB Spice Card:
Cash on Call
ADIB understands that a cardholder may face a situation in which he or she might have a financial emergency. Therefore, it offers the card members the option to access the Cash on Call facility. With this facility, the cardholder can get access to cash up to his or her available credit limit in just a phone call. This helps in saving on the extra charges and offers flexibility for repayments with numerous tenure options.
Balance Transfer
The cardholder can now transfer all other cards' outstanding dues on his or her ADIB Spice Card with the Balance Transfer facility. This service can be used simply by calling the ADIB helpline. For availing this facility customers will have to pay a balance transfer fee.
Complimentary Airport Lounge Access
The card member of an ADIB Spice Card no longer has to worry about the crowded airports, be it working in peace or just relaxing in a quiet place, there's a place for all. The cardholder can access various lounges in airports across the GCC by simply presenting his or her Spice Card. The list of airport lounges that can be accessed is available on ADIB's official website.
Easy Payment Plan
Cardholders can convert their big purchases into small affordable periodic payments with the partner retailers by using the Easy Payment Plan offered by ADIB. The easy payment plan is an innovative facility offered by ADIB that allows customers to make hefty payments at once which are later broken into smaller fragments which makes it easier for customers to repay the outstanding amount
Cash Advance Facility
This ADIB credit card comes with a cash advance facility that enables its cardholders to withdraw cash up to 100% of their available financial limit when required.
Contactless Payments
With the NFC enabled credit card, the cardholder can make safe and quick card payments.
Rewards & Offers of the ADIB Spice Card
Below are the best rewards and offers for the cardholder of the Spice Card:
The "Spiciest" Offers
Restaurants: The cardholder of the ADIB Spice Card is eligible for exclusive discounts on dining at several restaurants across the UAE. In addition to this, he or she is also eligible to obtain a 9% cashback on the restaurants.
Jewelers: Card members of the ADIB Spice Card can convert their purchases into an Easy Payment Plan of a tenure ranging between 3 to 6 months at a 0% Murabaha (profit). This offer is valid on 3 jewelers, they are Joyalukkas, Pure Gold, and Al Liali Jewellery. This offer can be obtained on a minimum spend of AED 1,000 and is not valid for gold bars or gold coins.
ADIB Rewards Program
Cardholders can make the best out of their purchases with the ADIB Rewards Program. The accumulated points earned by the card members can be used across a variety of spending categories such as airline tickets, and shopping vouchers. For every 1 AED spent locally on the Spice Card, the members earn 1 reward point and for every 1 AED spent internationally, 2 points are rewarded.
Redemption of ADIB Rewards:
Air Flights: Card members have the option to redeem their ADIB rewards against flight tickets on any of airlines, to any destination, and at any time.
Shopping Mall Vouchers: The ADIB reward points can be redeemed in the form of shopping mall vouchers at 3 malls, namely Abu Dhabi Mall, Sahara Centre Sharjah, and Sharjah Mega Mall.
Cashback Offers
With a minimum spend of AED 3,000 in a month (locally as well as internationally), card members can enjoy the following cash back offers with the ADIB Spice Card:
A cashback of 1% on utility payments
A cashback of 4% on fuel spends
A cashback of 7% on supermarket and grocery spends
A cashback of 9% on the restaurant spends
The maximum cashback is capped at AED 50 on utility payments, AED 100 on grocery spends, AED 200 on restaurant spend and AED 50 on fuel.
Priceless Arabia Offers
This offers the card member a unique collection of experiences that are specially created for MasterCard members. From shopping, dining, and sports to exciting travel & attractions, members of this card can enjoy a wide range of exclusive offers. Further details can be found on Priceless Arabia's official website.
Eligibility Criteria & Required Documents for the ADIB Spice Card
Eligibility Criteria
The eligibility criteria for a ADIB Spice card are as follows:
The minimum salary requirement for UAE Nationals is AED 8,000.
The minimum salary requirement for Expatriates is AED 12,000.
Documents Required
The documents required in order to apply for a ADIB Spice card are:
The original valid Passport of the applicant along with a valid copy of the same.
The original valid Emirates ID of the applicant and a valid copy of the ID.
Bank account statements of the last three months.
A salary certificate from the current employer which should not be more than 30 days old.
Fees & charges for the ADIB Spice Card
The fees and charges for the cardholder of an ADIB Spice Card:
(The prices and interest rates are subject to change as per the bank's requirement.)
Frequently Asked Questions on ADIB Spice Card
Q1: What are the ways to make the payment on my ADIB Spice Card?
Ans: There are numerous ways by which you can make the payment of your Spice card, such as:
ADIB Branches
Cash and Check Deposit Machine
Internet Banking
Telephone Banking
Q2: What are the malls eligible for redeeming the ADIB Rewards Points for shopping vouchers?
Ans: The 3 malls in which your reward points can be redeemed as shopping vouchers are:
Abu Dhabi Mall
Sahara Centre, Sharjah
Sharjah Mega Mall
Q3: How can the Reward Points be redeemed?
Ans: The reward points can be redeemed across a variety of services by contacting the helpline number of ADIB that is 600 543216.
Q4: Is the spice offers valid on gold coins or gold bars?
Ans: No, the spice offer is not valid on gold bars and gold coins.
Q5: How can I apply for the ADIB Spice Card?
Ans: You can apply for the ADIB Spice Card by the following ways:
By filling the application online through the official website of the
By applying through the
By visiting an ADIB