ADIB Edge credit card is a uniquely lifestyle-oriented card that offers benefits across dining, shopping and even travel categories of expenditure. This ADIB card offers an extremely long list of benefits and access to the world-class services, all for an affordable annual membership fee of AED 750. Furthermore, with their immense cashback benefits, Edge ADIB credit cards are the ideal choice for daily spending.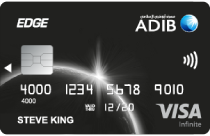 Features & Benefits of ADIB Edge Card
It is difficult to completely encapsulate the huge range of features and benefits of the Edge card. Here are some of the most impressive incentives that are offered:
Chip & Pin Security
The Edge ADIB credit card offers secure purchasing power to its cardholder by implementing Chip & Pin card security. Chip & Pin ADIB Edge credit cards are embedded with a distinctive microchip that cannot be duplicated.
Cash Withdrawals
Cardholders may utilize their entire available card limit as instant cash. Cash withdrawals with the Edge card can be made at all ADIB branches in the UAE and at any Visa-accepting ATM in the world.
Cash on Call
The cardmember can easily get access to cash with a simple phone call in case of emergency situations that require a cash boost.
Credit Shield Insurance (Takaful)
As an Islamic Banking card, this credit card offers its Takaful protection scheme to cardholders in the form of Credit Shield. Credit Shield Takaful protects the cardholder by taking care of any ADIB Edge credit card payments as a result of permanent disability, critical illness, death or involuntary loss of employment.
Contactless Payment Options
One of the most attractive ADIB Edge credit card payment options is that of contactless purchasing. Contactless payments allow the cardmember to simply hover their card on top of a payment machine to complete a transaction. This method of payment is quicker than swiping and less damaging to the card's magnetic strip as well.
Complimentary Golfing
Owners of the ADIB Edge credit card may enjoy complimentary golfing at Arabian Ranches Golf Club in Dubai. This service can be availed for one free round every month.
Balance Transfer
This ADIB credit card comes loaded with the balance transfer feature which allows the cardmember to consolidate his or her debt for which the cardholder has to pay a balance transfer a fee.
0% Payment Plans
Cardholders can convert their large purchases (worth AED 1,000 or more) into small affordable payments spread across a fixed tenure across the partner retailers. . The 0% payment plan is an innovative facility offered by ADIB that allows customers to make hefty payments at once which are later broken into smaller fragments which makes it easier for customers to repay the outstanding amount
Easy Cash
The cardholder can make use of the easy cash facility in case of an immediate cash requirement. The easy cash facility is similar to insurance coverage that provides a blanket of financial protection to the loved ones and family members of the cardholder during unforeseen events.
Roadside Assistance
Also included in the many ADIB Edge credit card benefits are complimentary roadside assistance. The Edge card's roadside assistance services include complimentary emergency assistance, unlimited towing, jump starts, flat tyre changing, battery boosting, emergency fuel and much more.
Valet Parking
The ADIB Edge credit card offers up to 4 free valet parking services every month for cardholders at various partnered locations across Dubai and Abu Dhabi.
Card Fraud Protection
The owner of the ADIB Edge credit card is provided with a shield against any fraudulent or unauthorized transactions on the card made by the third party.
Travel Insurance Letter
The cardmember can obtain a travel insurance letter for his or her Visa application requirements.
Access to Airport Lounges
Owners of this ADIB credit card receive free access to thousands of premium airport lounges domestically and internationally. Additionally, cardholders are also permitted to bring one guest with them.
Complimentary Travel Insurance
The ADIB Edge credit card offers complimentary multi-trip travel insurance for the cardholder, a spouse and 5 children (with an age limit of 75 years per individual) for an amount of up to US$ 1,000,000 for a period of 90 days. This free travel insurance policy offers medical cover, personal accident cover and travel inconvenience cover.
Purchase Protection & Warranties
All Edge ADIB credit card purchases are protected for up to a year from the date of the purchase. This policy covers damage, loss, and theft of the new purchase. Additionally, cardholders even receive an extended warranty on their Edge ADIB credit card purchases that lengthens the original warranty period up to a maximum of 24 months.
Luxury Hotel Services
Cardholders can enjoy the following perks in more than 800 hotels across the globe:
Guaranteed best rate that is available
Automatic up-gradation of the room upon arrival (only when available)
Free wifi / valet parking
Complimentary breakfast (continental)
Late check-out (3PM) when available
Status of a VIP Guest
Dining voucher worth $25
Visa Benefits
Cardholders can enjoy all Visa Infinite benefits offered by Visa.
e- ADIB Access
The Edge ADIB credit card online platform is called e-ADIB and offers secure, remote access to the Edge ADIB credit card account at any time of the day
Rewards and Offers of ADIB Edge Card
The list of Edge card rewards and offers can be browsed through below:
ADIB Rewards
As owners of the ADIB Edge credit card, customers also receive membership in the ADIB Rewards program. The ADIB rewards program allow this A DIB credit card members to earn incentives for every AED of expenditure made with the card. Details on the rewards program are as follows:
Cardholders earn 5 ADIB rewards points for any Edge ADIB credit card expenditure worth AED 1. The points redemption table is as follows:
| ADIB Rewards Points | Value |
| --- | --- |
| Every 10,000 | AED 50 |
| Every 100,000 | AED 1,000 |
Owners of the ADIB Edge credit card may redeem their accumulated ADIB reward points for flight tickets at any airline or for shopping vouchers at 3 malls in the UAE namely Sharjah Mega Mall, Sahara Central Sharjah, and Abu Dhabi Mall.
Dining & Cash Back Offers
Not only does the Edge credit card offer a 25% discount on dining establishments across the UAE, but it also allows cardholders to earn 10% cashback on all dining expenses made within the UAE. Cashback is capped at a massive AED 300 every month.
ADIB Deals
Owners of the Edge ADIB credit card may access numerous offers and discounts that are made available on the ADIB site under the 'SMARTMILES' banner.
Fees and Charges on ADIB Edge Card
The following table details the fee and charges on the Edge Card:
(The prices and interest rates are subject to change as per the bank's requirement.)
Eligibility Criteria and Documents Required for ADIB Edge Card
Eligibility Criteria
The main eligibility criteria that the applicant needs to meet in order to apply for this ADIB card is the minimum salary requirement. The applicant must be having a minimum monthly salary of AED 30,000.
Documents Required
The documents required in order to apply for this ADIB card are:
Valid passport – original and copy
Valid Emirates ID – original and copy
3 months' bank statement
Salary certificate issued by the present employer (must not be more than 1 month old)
FAQs on ADIB Edge Card
Q1: Can utility bills be paid using the ADIB Edge Card?
Ans: Yes. The following bills can be simply paid using your Edge card either via online banking or phone banking:
Etisalat bills (GSM, Wasel recharge and renewal, Landline, internet, and e-vision)
Electricity and water bills (SEWA, ADWEA, DEWA)
Q2: How can I manage my ADIB account?
Ans: You can manage your ADIB account in numerous ways such as:
ADIB online banking
Phone banking that is available 24x7
Monthly statements
E-Statements
SMS alerts
Q3: Where can I apply for the ADIB Edge Credit Card?
Ans: You can apply for the ADIB Edge card by using any of the following platforms:
Online
Phone
ADIB branches
Q4: Can I obtain supplementary cards?
Ans: Yes, as a cardholder you are entitled to up to four complimentary supplementary cards after which there is an annual charge of AED 250 on the fifth card onwards.
Q5: Is there any minimum monthly salary requirement for the Edge card?
Ans: Yes, the applicant must be having a minimum monthly salary of AED 30,000 in order to be eligible to apply for an ADIB Edge Credit card.