This ADIB Credit Card offers a huge amount of benefits including cash back, roadside assistance, airport lounge access and more. The cardholder can also avail the facility of cash withdrawal, complimentary grace period, and supplementary cards.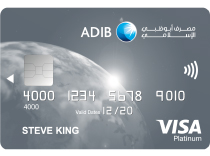 ADIB Cashback Platinum Credit Card
Cashback
Airport Lounge Access
Free for 1st year
Dining Discounts
Features and Benefits of the ADIB Cashback Visa Platinum Card
Listed below are some of the key features & benefits of this ADIB Credit Card:
Cash Withdrawal
The cardholder can withdraw cash equivalent to the 100 percent of their finance limit on this credit card.
Grace Period
The ADIB Cash back Visa Platinum Credit Card offers a complimentary grace period of a maximum of 55 days for the repayment of the outstanding balance.
Supplementary Cards
The primary cardholder can also opt for a maximum of four supplementary credit cards on this ADIB Cash back Visa Platinum Card for the eligible family members.
0% Easy Payment Plan
Members of this ADIB Cash back Visa Platinum Credit Card can convert their purchases of AED 1000 and above into equated monthly installments at selected merchants. The easy payment plan is an innovative facility offered by ADIB that allows customers to make hefty payments at once which are later broken into smaller fragments which makes it easier for customers to repay the outstanding amount.
Balance Transfers
The cardholder can transfer their other credit card's outstanding balance amount to this ADIB card for which the cardholder will have to pay a balance transfer fee.
Easy Cash
The card member can avail the easy cash facility in times of financial emergency. The easy cash facility is similar to insurance coverage that provides a blanket of financial protection to the loved ones and family members of the cardholder during unforeseen events.
Tap n Pay
NFC enabled cards (contactless cards) for simple, fast, and secured payments. With ADIB cards you can make safe and contactless transactions with a tap.
Airport Lounge Access
The card member can avail complimentary access to airport lounges throughout the world, using Veloce Lounge.
Valet Parking
This ADIB Credit Card also offers a maximum of four standard valet parking service monthly at most of the malls in Abu Dhabi and Dubai.
Visa Benefits
Card members can enjoy all Visa platinum benefits provided by Visa.
Complimentary Roadside Assistance
The card member can avail roadside assistance without any cost. The package includes the following:
After an accident, the cardholder can avail a car on rent for twenty-four hours on a complimentary
Complimentary Transport Service for registration of the vehicle (in same city), once in a
Complimentary Fuel Delivery Facility
Complimentary Lock out Facility
Complimentary Service for Flat Tire
Complimentary Jump Start Facility
Inter-Emirate Towing up to three times in one year
Complimentary Unlimited Towing Within City Limit Services
Payment Options
Mentioned below are the payment options offered by the bank through which cardholders can pay their credit card bills:
ADIB Deposit Machines
AI Ansari Exchange
ADIB branches
UAE Exchange
AI Fardan Exchange
Eligibility Criteria and Required Documents for the ADIB Cash back Visa Platinum Credit Card:
Eligibility Criteria
The minimum monthly salary requirement is AED 10,000 to be eligible for this ADIB credit card.
Required Documents
The applicant needs to submit the following documents in order to complete the ADIB Cash back Visa Platinum Credit Card application procedure:
Valid Passport (copy and original)
Valid Emirates Identity Card (copy and original)
Bank Account Statement (previous 3 months)
Current Employer Salary Certificate (less than thirty days old)
Rewards & Offers on ADIB Cashback Visa Platinum Card
Cash Back: The cardholder can earn cash back of flat one percent, anytime and anywhere using this ADIB Cash back Visa Platinum Credit Card.
Dining Discounts: The card member can avail a maximum of 25% discounts on all participating restaurants.
Fees & Charges on ADIB Cash back Platinum Card
Following are the fees & charges associated with the ADIB Cash back Visa Platinum Credit Card:
| Fees | Amount |
| --- | --- |
| Annual Fees | AED 1000 (Free for 1st year) |
| Annual Fees on fifth Supplementary Cards | AED 1000 |
| Profit Rate per month (with Salary Transfer) | 2.99 percent |
| Profit Rate per month (without Salary Transfer) | 3.09 percent |
| Late Payment Charge | AED 100 |
| Limit on Cash Withdrawal | 100 percent |
| Cash Withdrawal Charge (ATM) | 3 percent (99 minimum) |
| Card Replacement Charge | AED 75 |
| Excess Fund Transfer from Card to A/c over Cash Cover | AED 100 |
| International Transaction Charge | 1.80% |
| Monthly Payment (monthly) | 5 percent (100 minimum) |
| Monthly Payment Grace Period | Maximum 55 days |
| Commitment of donation to Charity on Late Payment | AED 100 |
| Temporary Limit Increase Charge | AED 50 |
| Service Charge on Non-AED Transactions | 3.1 percent |
| Service Charge on International AED Transaction | 1.8 percent |
| Sales Receipt Charge (copy) | AED 25 |
| Hotel Receipt/Travel Fares Charge (copy) | AED 25 |
| Additional Statement Charge (copy) | AED 45 |
| Certificate for Liability/No Liability | AED 50 |
| Returned Cheque Charge | AED 100 |
| Contribution Amount per month (Optional) | 0.9345 fils on each 100 used cover amount |
(The charges are applicable w.e.f. February 20, 2020)
FAQ's on ADIB Cashback Platinum Credit Card