The ADCB Personal loan is one of the most rewarding loans in the region, with benefits such as membership in the ADCB rewards program.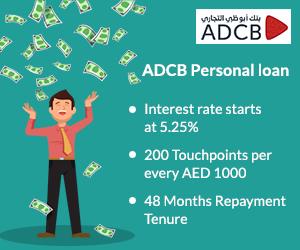 Available for both UAE Nationals and Emirates, the applicants can apply for a loan amount that is up to 20 times their salary. Moreover, the interest rates offered as 5.25% and 6.25% for the expats and UAE Nationals respectively, make ADCB Islamic bank personal loan one of the highly claimed products in UAE.
ADCB Personal Loan Interest Rate
Applicants will be charged the ADCB personal loan interest rate at a reducing rate, which gets reduced with every installment payment makes by the borrower. The rate of interest can be calculated using the ADCB personal loan calculator. This online tool is very useful to calculate ADCB bank personal loan interest rate.
ADCB Personal Loan Interest rate
Category
Interest Rate
TouchPoints Offered*
Salary Transfer
Minimum Salary Required

Personal Loan For UAE Nationals

5.25% p.a.

Minimum 200 TouchPoints per every AED 1,000 loan amount

Required

AED 5,000

Personal Loan For Expats

6.25% p.a.

Minimum 200 TouchPoints per every AED 1,000 loan amount

Required

AED 5,000
*Interest Rates are subject to change
ADCB Personal Loan TouchPoints
The TouchPoints offered with an ADCB personal loan for expats or UAE Nationals can be redeemed for shopping vouchers across tons of malls in the UAE and for lifestyle purchases such as spa and massage treatments. The following are the number of TouchPoints earned basis on the loan amount:
If the total loan amount is less than or equal to AED 150,000, the TouchPoints earned is 200 on every AED 1,000 of the
If the total loan amount is more than AED 150,000, the TouchPoints earned is 300 on every AED 1,000 of the
ADCB Personal Loan Eligibility Criteria
The ADCB personal loan eligibility parameters are designed to assess an applicant's creditworthiness and the risk of lending funds to them.
Age
The applicants are required to be a minimum of 21 years of age. This is applicable to both, the UAE nationals and the expats.
Salary Transfer
Applicants may not be able to avail this loan without a salary transfer. The salary transfer must be approved by the applicant's employer.
The applicant's credit score will be used to determine the maximum ADCB loan amount they are eligible for and subsequently, the applicable ADCB personal loan interest rate as well.
The bank may have different criteria depending on the personal loan requirements, however, the minimum ADCB personal loan eligibility needs to be met by every applicant.
ADCB Personal Loan: Documents Required
As per the ADCB personal loan requirements, the following ADCB personal loan documents need to be furnished:
Completed loan application form
EIDA Card
Passport
Residence Visa (for non-UAE nationals)
Salary transfer letter
Salary certificate (should be dated 30 days or less from the loan application's date)
Bank statement (last 3 months)
Liability or clearance letter (when switching from another loan provider)
These requirements may change as per ADCB's discretion. Applicants can refer to the ADCB customer care contact number for further information on the same.
Features of ADCB Personal Loan
The unique features of ADCB personal finance include:
Maximum loan repayment tenor of up to 48 months
Salary transfer is mandatory to avail a personal loan from ADCB Bank
200 TouchPoints for every AED 1,000 of the loan amount up to a loan amount AED 150,000
300 TouchPoints on every AED 1,000 of the loan amount if the loan amount is above AED 150,000
Competitive rate of interests starting from 5.25% to 6.25%, available at a reducing rate
Quick and hassle-free documentation ensuring fast loan processing
Benefits of ADCB Personal Loan
Here is a rundown on the benefits and features available on this consumer finance.
Loan Amount
The maximum ADCB personal loan amount one can apply for is up to 20 times their monthly salary.
Life Insurance
Credit life insurance helps in paying the outstanding amount in case of an unexpected medical emergency that may lead to a delay in payment.
Unemployment Cover
This pays up to 10% of the outstanding loan payments for a period of 6 months and at a fee of 0.1% of the remaining finance amount.
Online Application
From applying for personal finance to submitting an ADCB personal loan review for the same, the customers can have access to all financial services with the ADCB online banking personal loan. Simply visit the official website and get the most out of a personal loan in ADCB Bank.
TouchPoints
It also offers membership into the TouchPoints rewards program. TouchPoints can be earned for every AED 1,000 of the finance amount upwards of AED 10,000 in total.
Credit Card
Being amongst the most rewarding personal loans in UAE, the bank offers a free credit card along with various other benefits with this loan.
Salary Overdraft
The borrower can also enjoy a salary overdraft of up to 3 times for UAE nationals and up to 2 times for expats on this finance in the Emirates.
Other Benefits
Other than the various benefits mentioned above, the borrower also gets the facility of loan consolidation. They can avail this loan hassle-free with simple documentation, and have access to easy banking methods such as phone banking for their banking requirements.
How to Calculate ADCB Personal loan EMI?
While applying for a personal loan with ADCB Bank, the applicants should be mindful of certain important aspects such as ADCB personal loan rate, ADCB personal loan interest, EMI, etc. Loan EMI is the amount one has to pay against a loan amount after applying the offered ADCB personal loan interest rate. The loan EMI is decided at the time of the loan agreement. However, one can calculate it even before applying by using ADCB personal loan EMI calculator. This monthly installment calculator helps to get a rough idea on the EMI to be paid for a particular loan amount.